Operational Updates
Click HERE for the most updated hours, customer guidelines and updates to store policy.
Wild (Paperback)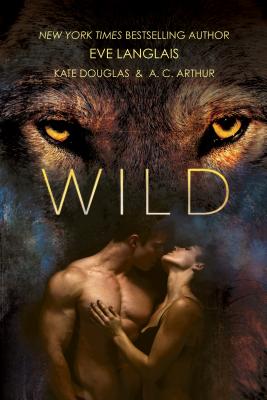 Description
---
A brand new, never before published novella!
In Catch a Tiger by the Tail by Eve Langlais, Broderick has a job to do—audit the books of a gentleman's club. Sounds simple, except his company wants him to find dirt linking to the mob, his secret mob employer wants someone to pin the blame on, and the bar manager at the heart of the controversy doesn't want him—even though she's his mate.
Previously published in the 2-in-1 e-original (title) and in print for the first time!
In Wild Passions by Kate Douglas, six women—friends closer than sisters—head off to an exclusive mountain resort for a week-long bachelorette getaway, where most of the women just wants to know if there are any good men left in the world. There are, and they're the men of Feral Passions, a unique resort located on a private wolf preserve, owned and run by a pack of sexy werewolves who use it as their own personal hunting ground for mates.
In Her Perfect Mates by A.C. Arthur, Malec Zenta was part of a loving lycan family until his twin brother's suicide took a piece of his soul. Channing Verdi never knew his parents, but that was fine because at the age of sixteen on the night of the full moon, he realized his purpose. The only pleasure these two betas have managed to find in their life was in the bed with the women they shared. Now, a human woman has entered their lives...a woman who sets their primal instincts on fire, a woman they can't help but stake their claim on...and give her the ultimate pleasure of being with two shifters at once.
About the Author
---
New York Times and USA Today Bestselling author Eve Langlais is a Canadian mom of three who loves to write hot romance. Her twisted imagination and sarcastic sense of humor tend to heavily influence her stories with giggle worthy results. As one of the authors in the Growl anthology, you can be treated to her version of romance featuring a shapeshifter, because she just loves heroes that growl--and make a woman purr. To find out more about Eve please visit her website or find her on Facebook where she loves to interact with readers.

Kate Douglas loves to write and she especially loves those 'happily ever after' endings, which makes writing romances the perfect career choice. A life-long Californian, Kate and her husband of over forty years live in the Sonoma County wine country within walking distance of three of their six grandchildren. She is the author of Wild, Intimate, and Awakened.

A.C. Arthur was born and raised in Baltimore, Maryland where she currently lives with her husband and three children. An active imagination and a love for reading encouraged her to begin writing in high school and she hasn't stopped since. Her debut novel Object of His Desire was written when a picture of an Italian villa sparked the idea of an African-American/Italian hero. Determined to bring a new edge to romance, she continues to develop intriguing plots, sensual love scenes, racy characters, and fresh dialogue—thus keeping the readers on their toes!