The Third Nero: A Flavia Albia Novel (Flavia Albia Series #5) (Hardcover)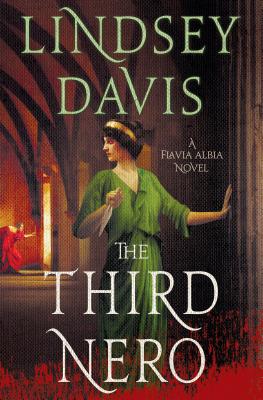 $26.99
Backordered or Out of Print
Other Books in Series
This is book number 5 in the Flavia Albia Series series.
Description
---
Intrigue—and possibly treason—swirl around the hall of power in Rome when yet another Nero pretender emerges to challenge the Emperor.

In 90 A.D., following the Saturninus revolt in Germany, the Emperor Domitian has become more paranoid about traitors and dissenters around him. This leads to several senators and even provincial governors facing charges and being executed for supposed crimes of conspiracy and insulting the emperor. Wanting to root out all the supports of Saturninus from the Senate, one of Domitian's men offers to hire Flavia Alba to do some intelligence work.

Flavia Alba, daughter and chip off the old block of Marcus Didius Falco, would rather avoid any and all court intrigue, thank you very much. But she's in a bit of a bind. Her wedding is fast approaching, her fiancé is still recovering—slowly—from being hit by a lightning bolt, and she's the sole support of their household. So with more than a few reservations, she agrees to "investigate."

Adding to the confusion is yet another Nero pretender has shown up in Parthia and is trying to rally support for his claim for the throne. With intrigue upon intrigue swirling around the capital city, it's up to Albia to uncover what is—and isn't—the real threat.
About the Author
---
Lindsey Davis was born and raised in Birmingham, England. After taking an English degree at Oxford and working for the civil service for thirteen years, she "ran away to be a writer." Her internationally bestselling novels featuring ancient Roman detective Marcus Didius Falco include Venus in Copper, The Iron Hand of Mars, Nemesis and Alexandria. She is also the author of Rebels and Traitors, set during the English Civil War. Davis is the recipient of the Crime Writers' Association Cartier Diamond Dagger Award, the highest accolade for crime writers, as well as the Ellis Peters Historical Dagger Award and the Authors' Club Best First Novel award.
Praise For…
---
"Davis has never been better." —Publishers Weekly (starred review)

"Davis has created a fascinating world, populated it with original characters, and laid out a captivating plot." —Library Journal

"Ancient Rome comes alive for the reader as Flavia triumphs once again in a riotous city full of Parthian archers with fiery arrows and a mad elephant on the loose. Much humor here, in Davis' inimitable style." —Booklist