Death of an Unsung Hero: A Lady Montfort Mystery (Lady Montfort Mystery Series #4) (Hardcover)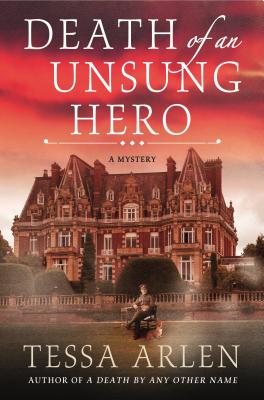 $26.99
Backordered or Out of Print
Other Books in Series
This is book number 4 in the Lady Montfort Mystery Series series.
Description
---
In 1916, the world is at war and the energetic Lady Montfort has persuaded her husband to offer his family's dower house to the War Office as an auxiliary hospital for officers recovering from shell-shock with their redoubtable housekeeper Mrs. Jackson contributing to the war effort as the hospital's quartermaster.
Despite the hospital's success, the farming community of Haversham, led by the Montfort's neighbor Sir Winchell Meacham, does not approve of a country-house hospital for men they consider to be cowards. When Captain Sir Evelyn Bray, one of the patients, is found lying face down in the vegetable garden with his head bashed in, both Lady Montfort and Mrs. Jackson have every reason to fear that the War Office will close their hospital. Once again the two women unite their diverse talents to discover who would have reason to murder a war hero suffering from amnesia.
Brimming with intrigue, Tessa Arlen's Death of an Unsung Hero brings more secrets and more charming descriptions of the English countryside to the wonderful Lady Montfort and Mrs. Jackson series.
About the Author
---
Tessa Arlen, the daughter of a British diplomat had lived in, or visited her parents in: Singapore, Berlin, The Persian Gulf, Beijing, Delhi and Warsaw by the time she was sixteen. She came to the U.S. in 1980 and worked as an H.R. recruiter for the Los Angeles Olympic Organizing Committee for the 1984 Olympic Games, where she interviewed her future husband in 1983 for a job. She lives in New Mexico.
Praise For…
---
"The fourth entry by Arlen has enjoyable touches of whimsy... more satisfying than the typical country-manor murder." —Kirkus Reviews on Death of an Unsung Hero

"Arlen's satisfying fourth mystery set in early-20th-century ….The surprising solution will reward careful readers. The way Arlen integrates the traumas of WWI into a golden age whodunit plot will please Charles Todd fans." —Publishers Weekly on Death of an Unsung Hero
"Historical details, notably medical treatments and women's wartime work, add to this fourth entry in the well-researched Lady Montfort series. A winning historical mystery." —Booklist on Death of an Unsung Hero

"The book is a delightful romp through a world of vividly eccentric characters in a beautifully described setting. It was pure pleasure to read, and it packed a punch." —Historical Novel Society on Death of an Unsung Hero
"Arlen recreates a richly detailed pre-WWI England, seamlessly weaving historical events and people into her well-written third Lady Montfort mystery... Lovers of traditional English country house mysteries will enjoy this story very much"—Publishers Weekly on A Death by Any Other Name
"Tessa Arlen returns with another intriguing mystery to be solved by the Countess of Montfort and her housekeeper Edith Jackson, a reluctant Watson to Lady Clementine's enthusiastic Sherlock. Roses in the conservatory, crumpets in the drawing room, and news of an assassination in Sarajevo—Arlen skillfully captures the uneasy moods and mores of the time." —Margaret Maron, award-winning author of the Deborah Knott series on A Death by Any Other Name
"This pitch perfect classic whodunit beautifully captures that brief moment when the world waited to hear whether war may be averted. Tessa Arlen's observations of her characters and the intricacies of the English class system are conveyed with sparkling insight and wry humour. The sense of place and time is captured through precise telling details. This is a charming story with the bonus of exploring the British love of gardening as the storm among the Hyde rosarians is played out against historical events. It's a delight to be in the company of two such captivating sleuths." — Frances Brody, author of the Kate Shackleton mysteries on A Death by Any Other Name
"Arlen does a good job of depicting a period when class distinctions have become blurred by new money and more relaxed manners. The plot, which includes a slew of red herrings, builds to a startling denouement." —Publishers Weekly on Death Sits Down to Dinner
"A neatly crafted whodunit that drips with diamonds, titles, and scandals." —Kirkus Reviews on Death Sits Down to Dinner