Operational Updates
Reopening for in-person browsing: JUNE 6
store hours: 12pm to 6pm everyday
We are still accepting online orders, as well as care package orders at this link.
New Customer Guidelines:
No Mask, No Entry. If you don't have a mask, knock on the door and a staff member will bring you one that you can keep.
Browse with intention. Don't touch every book in the store if you don't have to.
In order to ensure touchless checkout, we are not accepting cash at this time.
Only 7 customers are allowed in the store at one time.
No pets at this time.
Children need to be vigorously supervised; they cannot leave your side while you are browsing.
All seating areas are closed.
Our tea service is currently suspended, but you can still buy the tea leaves to make at home.
The Tribes of Palos Verdes: A Novel (Paperback)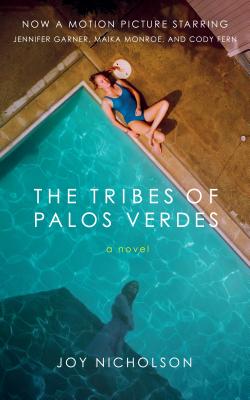 $15.99
Usually Ships in 1-5 Days
Description
---
Joy Nicholson's The Tribes of Palos Verdes is a Los Angeles Times bestseller and now a major motion picture starring Jennifer Garner, Maika Monroe, and Cody Fern.
"Nicholson captures the California-coast culture. . . . Medina shows what it's like to feel 'six million years old' way before your time."—Entertainment Weekly
"Impressive . . . Captures what it is to be young, intelligent, and very alone."—Us Weekly
"Nicholson's evocation of character, her ability to bring Medina fully to life, makes this work. She writes with snapshot immediacy. . . . A writer to keep in mind."—David Ulin, Salon
Medina Mason is a defiant, awkward fourteen-year-old living in the affluent beach community of Palos Verdes, California. The pressure is intense in their high-stakes world, and Medina's family begins to break under the stress. Her parents' marriage disintegrates and her beloved brother turns to drugs in order to cope. Medina turns to the ocean to escape it all. She surfs to survive, finding a bitter solace in the rough comfort of the waves.
"An inspiring portrait of a young woman unswayed by other people's pettiness" (Mademoiselle), this is the moving story of growing up "different," of the love between siblings, and of one girl's power to save herself.
About the Author
---
Joy Nicholson is the author of The Tribes of Palos Verdes and The Road To Esmeralda. She lives with her husband in New Mexico, where she runs the Rancho de Chihuahua, a sanctuary for elderly and abused dogs.
Praise For…
---
"The wise, funny, adolescent voice of a female Holden Caulfield, noble and honest....A vibrant book, brave and true to a young girl's voice."—Los Angeles Times
"Nicholson captures the California-coast culture...Medina shows what it's like to feel '6 million years old' way before your time." —Entertainment Weekly
"An inspiring portrait of a young woman unswayed by other people's pettiness." —Mademoiselle
"Impressive...captures what it is to be young, intelligent, and very alone." —US Magazine
"Nicholson's evocation of character, her ability to bring Medina fully to life, makes this work. She writes with snapshot immediacy...A writer to keep in mind." —David Ulin, Salon Magazine