The Duke With the Dragon Tattoo (Victorian Rebels #6) (Mass Market)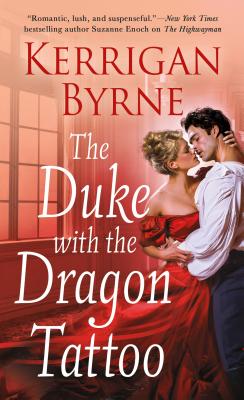 Other Books in Series
This is book number 6 in the Victorian Rebels series.
Description
---
Kerrigan Byrne returns to her captivating Victorian Rebels series with the USA Today bestselling The Duke with the Dragon Tattoo.

The bravest of heroes. The brashest of rebels. The boldest of lovers. These are the men who risk their hearts and their souls—for the passionate women who dare to love them…

He is known only as The Rook. A man with no name, no past, no memories. He awakens in a mass grave, a magnificent dragon tattoo on his muscled forearm the sole clue to his mysterious origins. His only hope for survival—and salvation—lies in the deep, fiery eyes of the beautiful stranger who finds him. Who nurses him back to health. And who calms the restless demons in his soul…

A LEGENDARY LOVE

Lorelai will never forget the night she rescued the broken dark angel in the woods, a devilishly handsome man who haunts her dreams to this day. Crippled as a child, she devoted herself to healing the poor tortured man. And when he left, he took a piece of her heart with him. Now, after all these years, The Rook has returned. Like a phantom, he sweeps back into her life and avenges those who wronged her. But can she trust a man who's been branded a rebel, a thief, and a killer? And can she trust herself to resist him when he takes her in his arms?

"Byrne is a force in the genre."—RT Book Reviews
About the Author
---
Kerrigan Byrne has done many things to pay the bills, from law enforcement to belly dance instructor. Now she's finally able to have the career she'd decided upon at thirteen when she announced to her very skeptical family that she was going to "grow up to be a romance novelist." Whether she's writing about Celtic Druids, Victorian bad boys, or brash Irish FBI Agents, Kerrigan uses her borderline-obsessive passion for history, her extensive Celtic ancestry, and her love of Shakespeare in almost every story.

Kerrigan lives with her husband on the coast of Washington State's Olympic Peninsula in a Victorian-era town almost frozen in time. When she's not writing, you might find her on the beach with her dogs, lounging at a local vineyard or brewery, or buying things she doesn't need at antique stores.

Her novels with St. Martin's Press include the Victorian Rebels series (starting with The Highwayman) and Devil You Know series (which begins with How To Love A Duke in Ten Days).
Praise For…
---
"...A truly rip-roaring, swashbuckling adventure with swarthy pirates to spare. ...Byrne's writing comes to vivid life on the page, plopping you in the middle of piratical scheming with such verve you'll swear you can feel the sea spray on your face. ...Byrne weaves in such undeniable thrills and a sweeping sense of all-consuming passion that you may just end up falling for the story against your better judgment." — Entertainment Weekly on The Duke With the Dragon Tattoo

"A hero so lost he fears he'll never be found and a heroine who won't give up on him reclaim their love in a bold, lyrical tale that brings the darker side of the Victorian Age into sharp relief; another winner in a stellar series." — Library Journal starred review on The Duke With the Dragon Tattoo

"From the novel's incisively etched characters, including an über-alpha hero with secrets to spare, to the bone-melting sensuality that characterizes the hero and heroine's romantic relationship, everything about this deliciously dark and dangerous historical romance is done to perfection." — Booklist starred review on The Duke With the Dragon Tattoo

"Readers who feel guilty about craving the thrill of a Victorian bodice-ripper will appreciate the moral reassurance of Byrne's sensitive characterizations." — Publisher's Weekly Starred Review on The Duke with the Dragon Tattoo

"This was one of the most emotionally gratifying books I've read all year and one of the most moving love stories I've ever come across." - Natasha is a Book Junkie on The Highwayman

"There's a lot to love about this awesome book...Byrne's sexy scoundrels and complex heroines deliver, as always." —Kirkus Starred Review on The Scot Beds His Wife

"Byrne pens another emotionally powerful romance that is original, complex and fascinating… An unforgettable read." - RT Book Reviews Top Pick on The Scot Beds His Wife

"A pants-wearing heroine with secrets? Yes please." - Smart Bitches, Trashy Books on The Scot Beds His Wife

"This sexy romp has it all—a mystery, a feminist heroine worth rooting for, and moments of heat so intense they might need a nurse." —Kirkus Starred Review on The Duke

"This [is a] page-turning novel full of historical details and sensuous romance." —Publishers Weekly Starred Review on The Duke

"Another hit from the phenomenal Byrne." —Library Journal Starred Review on The Highlander

"A rich, emotional love story." —The Washington Post on The Highlander

"Captured me from page one and never let go. Romantic, lush, and suspenseful." —Suzanne Enoch, New York Times bestselling author on The Highwayman

"A passionate, lyrical romance that takes your breath away. From the first page, you'll fall in love." —Elizabeth Boyle, New York Times bestselling author

"Byrne makes a stunning debut with a beautifully written, intensely suspenseful, and deliciously sensual love story." —Amelia Grey, New York Times bestselling author

The dark, violent side of the Victorian era blazes to life as a caring, competent heroine living under the radar is abducted by a notorious crime lord with wonderfully gratifying results in this exceptional and compelling vengeance-driven romantic adventure. —Starred Library Journal Review on The Highwayman

The romance is raw, edgy and explosive...the path they take through adversity makes the triumph of love deeply satisfying. —Publishers Weekly on The Highwayman

A truly mesmerizing series that highlights dangerous heroes who flout the law and the women who love them. —Library Journal Starred Review on The Hunter