Pandora's Boy: A Flavia Albia Novel (Flavia Albia Series #6) (Hardcover)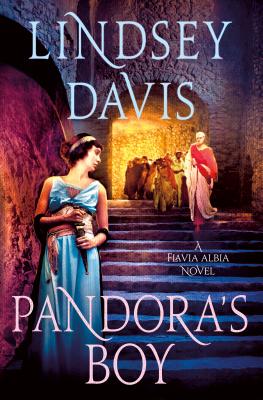 $27.99
Backordered or Out of Print
Other Books in Series
This is book number 6 in the Flavia Albia Series series.
Description
---
A suspicious death and subsequent murder send Flavia Albia down a twisted path to expose corruption and betrayal in Lindsey Davis's next historical mystery, Pandora's Boy.

First century Rome is not the quiet, orderly city that it pretends to be and in this environment, a very clever private informer can thrive. Flavia Albia, daughter of Marcus Didius Falco, is a chip off the old block. She's taken over his father's old profession, and, like him, she occasionally lets her love of a good puzzle get in the way of her common sense. Such is the case when one such puzzle is brought to her by the very hostile ex-wife of Albia's new husband.

It seems that over on the Quirinal Hill, a naive young girl, one Clodia Volumnia, has died, and there's a suggestion that she was poisoned by a love potion. The local witch, Pandora, would have been the one to supply such a potion. Looking into the matter, Albia soon learns that Pandora carries on a trade in herbal beauty products while keeping hidden her much more dangerous connections.

Albia soon discovers the young girl was a handful and her so-called friends were not as friendly as they should have been. The supposedly sweet air of the Quirinal hides the smells of loose morality, casual betrayal, and even gangland conflict. When a friend of her own is murdered, things become serious and Albia is determined to expose as much of this local sickness as she can—beginning with the truth about the death of little Clodia.
About the Author
---
Lindsey Davis was born and raised in Birmingham, England. After taking an English degree at Oxford and working for the civil service for thirteen years, she "ran away to be a writer." Her internationally bestselling novels featuring ancient Roman detective Marcus Didius Falco include Venus in Copper, The Iron Hand of Mars, Nemesis and Alexandria. She is also the author of Rebels and Traitors, set during the English Civil War. Davis is the recipient of the Crime Writers' Association Cartier Diamond Dagger Award, the highest accolade for crime writers, as well as the Ellis Peters Historical Dagger Award and the Authors' Club Best First Novel award.
Praise For…
---
"The reader will be repeatedly astonished by the tricks Flavia has up her sleeve... But it is by using the essentials of her trade—methodical inquiry, reasoning, memory, and persistence—that she provides a satisfactory conclusion to this complicated but lively tale. For fans of crime fiction set in the ancient world, this one is not to be missed." —Booklist (starred review)

"The sixth case for Davis' heroine (The Third Nero, 2017, etc.) boasts a brisk pace, a colorful cast, and her customary attention to period detail." —Kirkus Reviews

"The always reliable Davis has written another compelling mystery conveying a vividly detailed ancient Rome, with characters who possess unique personalities and come from all walks of life...a treat for fans of historical fiction or detective mysteries, who will want to read all the titles published by Davis." —Library Journal