Operational Updates
Click HERE for the most updated hours, customer guidelines and updates to store policy.
The Memory of Souls (A Chorus of Dragons #3) (Hardcover)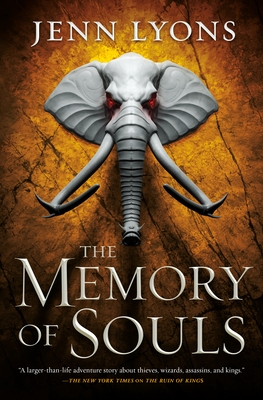 $27.99
Usually Ships in 1-5 Days
Other Books in Series
This is book number 3 in the A Chorus of Dragons series.
Description
---
The Memory of Souls is the third epic fantasy in Jenn Lyons' Chorus of Dragons series.

THE LONGER HE LIVES
THE MORE DANGEROUS HE BECOMES

Now that Relos Var's plans have been revealed and demons are free to rampage across the empire, the fulfillment of the ancient prophecies—and the end of the world—is closer than ever.

To buy time for humanity, Kihrin needs to convince the king of the Manol vané to perform an ancient ritual which will strip the entire race of their immortality, but it's a ritual which certain vané will do anything to prevent. Including assassinating the messengers.

Worse, Kihrin must come to terms with the horrifying possibility that his connection to the king of demons, Vol Karoth, is growing steadily in strength.

How can he hope to save anyone when he might turn out to be the greatest threat of them all?


A Chorus of Dragons
1: The Ruin of Kings
2: The Name of All Things
3: The Memory of Souls
About the Author
---
Jenn Lyons was a graphic artist and illustrator for twenty years and has worked in video games for over a decade. She previously worked on The Saboteur and Lord of the Rings: Conquest at EA Games. She is based out of Atlanta, Georgia.

The Ruin of Kings is the first installment of the epic fantasy series A Chorus of Dragons.
Praise For…
---
"Lyons has cleverly taken the epic fantasy tropes of prophecy and lineage and stood them on their heads, all while delving deep into her multidimensional characters and spinning great battles with high body counts."—Booklist, starred review

"Lyons braids multiple points of view, tenses, and time lines into a richly detailed and elaborate story with increasing tension and stakes. . . . The third Chorus of Dragons book is an exciting entry in the series, culminating in an intriguing endpoint that will have readers excited for the next book."—Library Journal, starred review

Praise for The Ruin of Kings:

"[A] jaw-dropping, action-packed story of betrayal, greed, and grand-scale conspiracy . . . Lyons ties it all together seamlessly to create literary magic. Epic fantasy fans looking for a virtually un-put-down-able read should look no further."—Kirkus, starred review

"Everything epic fantasy should be: rich, cruel, gorgeous, brilliant, enthralling and deeply, deeply satisfying. I loved it."—Lev Grossman, author of The Magicians

"It was one hell of a ride. I gobbled it up and was hungry for more."—Glen Cook, author of The Black Company

"The Ruin of Kings is a fascinating story about a compellingly conflicted young hero in an intriguingly complex world."—L. E. Modesitt, Jr., author of the Recluse series

"A thriller plot of revenge and loyalty with a get-under-your-skin and keep-you-reading-all-night mystery at its heart. I loved it."—John Gwynne, author of Malice

"The Ruin of Kings revs up with the glitz of a high-speed, multi-level video game, with extreme magic and a teen hero with angst."—Janny Wurts, author of The Curse of the Mistwraith

Praise for The Name of All Things:

"Simply put: This is top-notch adventure fantasy written for a 21st-century audience—highly recommended."—Kirkus, starred review

"Lyons proves she is worthy of comparison to other masters of epic fantasy."—Booklist, starred review

"Lyons is creating a complex and wonderful series that will immerse and delight."—Library Journal