Operational Updates
Reopening for in-person browsing: JUNE 6
store hours: 12pm to 6pm everyday
We are still accepting online orders, as well as care package orders at this link.
New Customer Guidelines:
No Mask, No Entry. If you don't have a mask, knock on the door and a staff member will bring you one that you can keep.
Browse with intention. Don't touch every book in the store if you don't have to.
In order to ensure touchless checkout, we are not accepting cash at this time.
Only 7 customers are allowed in the store at one time.
No pets at this time.
Children need to be vigorously supervised; they cannot leave your side while you are browsing.
All seating areas are closed.
Our tea service is currently suspended, but you can still buy the tea leaves to make at home.
Tom Clancy's Op-Center: For Honor (Paperback)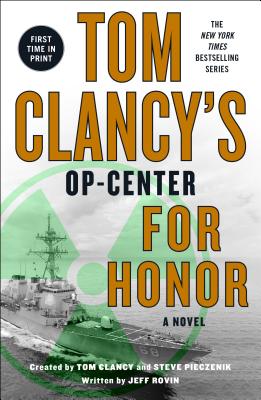 $16.99
Usually Ships in 1-5 Days
Description
---
In For Honor, a chilling new thriller in the New York Times bestselling Tom Clancy's Op-Center series, simmering tensions threaten to ignite when a silo of Cold War missiles surfaces in the Middle East.
In 1962, at the height of the Cold War, the Soviet Union sent a convoy of nuclear missiles to Cuba. The crisis that followed almost triggered World War III. However, while all eyes were on the Caribbean, not all of the missiles were sent to Cuba. Several ships slipped from the flotilla and headed for a fishing village in a remote, frigid, northeastern Soviet frontier. There, a silo was constructed not far from Alaska.
More than sixty years later, that silo and its lethal contents are intact. Now, Iranian scientists team with a Russian agent and his estranged, arms-smuggling father to bring those missiles to Tehran. When an intel officer at Op Center starts picking up hints of the deal, the government's off-the-grid unit must track the unknown actors – and try to decide whether they can count on data provided by an Iranian defector, a man who has more at stake than anyone realizes.
At the same time, Op-Center sends a lone agent to Havana to try and find an aging revolutionary, a woman, who may hold the key to pinpointing the location of the silo.
Complicating matters is a turf war between Op Center, the White House, and the FBI that threatens to compromise the investigation…as the time to act grows perilously short.
About the Author
---
Jeff Rovin has written dozens of novels, most notably Tom Clancy's Op-Center and its sequels, several of which have appeared on the New York Times bestseller list. He's written nonfiction books about myths, religion, and the Bible and brings that research to bear in Conversations With the Devil. Rovin lives in the New York area.
Praise For…
---
"Rovin's thrilling fifth entry...all the elements seamlessly click into place and the book races to the finish. Clancy would be proud."—Publishers Weekly

Praise for DARK ZONE
"An absorbing military thriller...plenty of suspense." —Publishers Weekly
Praise for SCORCHED EARTH
"Suspenseful…An Op-Center book is always a master class in military acronyms and hardware…the simple hostage situations keep the tension cranked high and will satisfy Clancy fans old and new." —Publishers Weekly

Praise for INTO THE FIRE
"A top-notch military thriller, combining politics, suspense, and action. Couch and Galdorisi continue to make the Clancy brand shine." —Booklist

"With intricate plotting, plenty of action, and characters – even villains – that are more than cardboard cutouts, Tom Clancy's Op-Center: Into the Fire is definitely a book that will leave you sleep-deprived." —Defense Media Network
Praise for OUT OF THE ASHES

"Thriller addicts like me devoured every Tom Clancy's Op-Center tale. Now they are back, intricately plotted, with wonderfully evil villains and enough realistic military action and suspense to ruin a couple of night's sleep. Highly recommended." —Stephen Coonts, New York Times bestselling author of Pirate Alley