Master of His Fate (The House of Falconer Series #1) (Hardcover)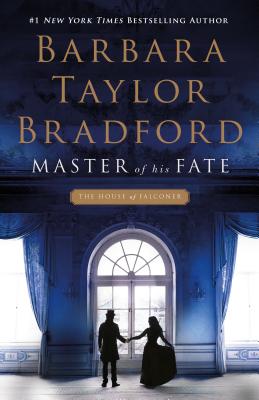 $28.99
Usually Ships in 1-5 Days
Description
---
From #1 New York Times bestselling author Barbara Taylor Bradford comes the first book in a stunning new historical saga.
Victorian England is a country of sharp divides between rich and poor, but James Lionel Falconer, who spends his days working at his father's market stall, is determined to become a merchant prince. Even as a child, he is everything a self-made man should be: handsome, ambitious, charming, and brimming with self-confidence. James quickly rises through the ranks, proving himself both hardworking and trustworthy, and catching the eye of Henry Malvern, head of the most prestigious shipping company in London. But when threats against his reputation – and his life - begin to emerge, James will have to prove that he truly is the master of his fate.
Through scandal and romance, tragedy and triumph, the Falconer and Malvern family's lives intertwine in unexpected ways in this expansive and intricately detailed new novel filled with drama, intrigue, and Bradford's trademark cast of compelling characters.
About the Author
---
Barbara Taylor Bradford is the author of more than 25 bestselling novels, including Playing the Game, Breaking the Rules, and The Ravenscar Dynasty. She was born in Leeds, England, and from an early age, she was a voracious reader: at age 12, she had already read all of Dickens and the Brontë sisters. By the age of twenty, she was an editor and columnist on Fleet Street. She published her first novel, A Woman of Substance, in 1979, and it has become an enduring bestseller. Barbara Taylor Bradford's books are published in over 90 countries in 40 languages, with sales figures in excess of 82 million. Ten of her novels have been adapted into television mini-series starring actors including Sir Anthony Hopkins, Liam Neeson, Deborah Kerr and Elizabeth Hurley. She has been inducted into the Writers Hall of Fame of America, and in June of 2007, Barbara was awarded an OBE (Order of the British Empire) by Queen Elizabeth II for her contributions to Literature. She lives in New York City with her husband, television producer Robert Bradford, to whom all her novels are dedicated, and their Bichon Frise dogs, who sit under her desk while she writes.
Praise For…
---
Praise for Barbara Taylor Bradford:

"Bradford's many fans will find a vast new cast of characters to connect with." —Publisher's Weekly on Master of His Fate
"The launch of what promises to be another blockbuster Bradford series." —Kirkus Reviews on Master of His Fate

"Bradford's legion of fans will flock happily to this romantic saga." —Booklist on Master of His Fate
"Through a rich trove of characters who seem to be magnets for high drama, Bradford furthers the Cavendon saga with intricately textured tales of passion and betrayal." —Booklist on Secrets of Cavendon
"There is no one writing sagas like Bradford, and no one but the grand mistress delivers this kind of unforgettable, sweeping, dramatic read." —Romantic Times (4 ½ stars) on The Cavendon Luck


"True love conquers all and loyalty reigns supreme in Bradford's dishy continuation of the Cavendon saga." —Kirkus Reviews on The Cavendon Women
"Few novelists are as consummate as Barbara Taylor Bradford at keeping the reader turning the page. She is one of the world's best at spinning yarns." —The Guardian on Secrets from the Past

"Every novel from this acclaimed and beloved author is avidly read, and its engrossing historical dimension, family traumas, romance, and vivid setting will prove irresistible."—Booklist on Letters from a Stranger