Shadow Strike: Inside Israel's Secret Mission to Eliminate Syrian Nuclear Power (Hardcover)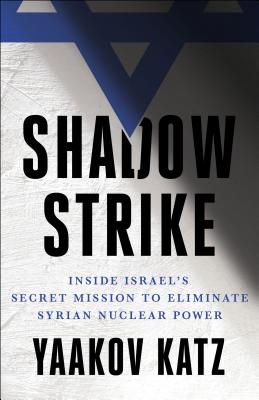 $28.99
Backordered or Out of Print
Description
---
A 2019 National Jewish Book Award Finalist

"At the top of my reading list." —Alan Dershowitz, professor emeritus at Harvard Law School

"Reads like an international thriller, but it is actually a compelling factual day-by-day (and sometimes hour-by-hour) account of an incident of acute threat and decisive action by the Jewish state...". —Jonathan Kirsch, Jewish Journal Review

The never-before-told inside story of how Israel stopped Syria from becoming a global nuclear nightmare—and its far-reaching implications

On September 6, 2007, shortly after midnight, Israeli fighters advanced on Deir ez-Zour in Syria. Israel often flew into Syria as a warning to President Bashar al-Assad. But this time, there was no warning and no explanation. This was a covert operation, with one goal: to destroy a nuclear reactor being built by North Korea under a tight veil of secrecy in the Syrian desert.

Shadow Strike tells, for the first time, the story of the espionage, political courage, military might and psychological warfare behind Israel's daring operation to stop one of the greatest known acts of nuclear proliferation. It also brings Israel's powerful military and diplomatic alliance with the United States to life, revealing the debates President Bush had with Vice President Cheney and Israeli Prime Minister Ehud Olmert as well as the diplomatic and military planning that took place in the Oval Office, the Prime Minister's Office in Jerusalem, and inside the IDF's underground war room beneath Tel Aviv.

These two countries remain united in a battle to prevent nuclear proliferation, to defeat Islamic terror, and to curtail Iran's attempts to spread its hegemony throughout the Middle East. Yaakov Katz's Shadow Strike explores how this operation continues to impact the world we live in today and if what happened in 2007 is a sign of what Israel will need to do one day to stop Iran's nuclear program. It also asks: had Israel not carried out this mission, what would the Middle East look like today?
About the Author
---
Yaakov Katz is Editor-in-Chief of The Jerusalem Post. He previously served for close to a decade as the paper's military reporter and defense analyst and is the co-author of the books The Weapon Wizards: How Israel Became a High-Tech Military Superpower and Israel vs. Iran: The Shadow War. Prior to taking up the role of Editor-in-Chief, Katz served for two years as a senior policy adviser to Israel's Minister of Economy and Minister of Diaspora Affairs. In 2013, Katz was one of 12 international fellows to spend a year at the Nieman Foundation for Journalism at Harvard University. Originally from Chicago, Katz also has a law degree from Bar Ilan University. He lives in Jerusalem with his wife and four children.
Praise For…
---
"[Katz] goes beyond the drama... Shadow Strike is well written, engaging, and thoughtful." —Middle East Quarterly

"A powerful read...Katz flexes both his editorial sinews and his prior government connections...to deliver a suspenseful chronicle, bolstered by rapid-fire precision and continuous in-room details." —Edwin Black, San Diego Jewish World

"At the top of my reading list." —Alan Dershowitz, professor emeritus at Harvard Law School

"Remarkable...one of the most compelling stories I have read in a long time." —Newt Gingrich, Newsweek

"Katz's account is at once authoritative and deeply engaging. Shadow Strike provides readers with a front-row seat to the cutthroat world of Israeli politics...underscores the central role that coordination with its chief strategic partner, the United States, plays in virtually all of Israel's decision-making processes. It does all of the above in quick, accessible and compelling prose that promises to make Shadow Strike an essential addition to any serious collection on contemporary Israeli statecraft." —Ilan Berman, The Jerusalem Post

"Full of espionage, political courage and psychological warfare, this book is sure to thrill both the casual James Bond fan and the most serious followers of Middle Eastern politics." —Avi Jorisch, Times of Israel

"Detailed...Valuable...for understanding Israel's defense policy and its broader effects on the Middle East as a whole." —Kirkus Reviews

"I was so engrossed by the story that it was almost impossible for me to put the book down, so anxious was I to know how it would unfold... one of the most gifted writers I have had the pleasure to read." —M. Nadeau, Wellington World

"Reading like a spy-thriller novel, Yaakov Katz's Shadow Strike takes you behind the scenes in the Oval Office, at Mossad headquarters, and in the Syrian desert on a mission too complex and daring to be believed. Israel's cunning in its fight for survival, its determination to keep nuclear weapons out of the hands of its enemies, and its struggle and partnership with its closest ally, keep the pages turning and the adrenaline pumping." —Dan Shapiro, U.S. ambassador to Israel and senior director for the Middle East and North Africa at the National Security Council during the Obama Administration

"A gripping portrayal of how Israel's leaders reached one of the most momentous decisions in its history, a decision that had significant implications for Israel, the region, and much of the world. A great read and an important one." —Deborah E. Lipstadt, author of Antisemitism Here and Now

"Shadow Strike tells a remarkable story of courage, determination and Israeli military might. It is a blueprint for how countries can and should act when faced with a threat of an existential nature. This book provides a behind-the-scenes look at America's alliance with Israel, a relationship we need to protect and foster in the years to come." —Dick Cheney

"This covert action of the highest level and held in the tightest secrecy makes this exclusive disclosure so much more exciting to read. The reader becomes enmeshed in the detailed discussions with military and political actors in Jerusalem, Tel Aviv, and Washington and the extraordinary and meticulously collected documented discussions between the leaders of both countries in what was to be a daring and courageous military mission. The reader is truly treated to a fascinating tale that will not allow the book to be set down until completely finished." —Association of Jewish Libraries

"As Israel and the US struggle with how to contain Iran's nuclear weapons program, Shadow Strike tells the tale when action replaced words. Katz's book is that rare combination: illuminating, important, and tense as a thriller." —Martin Fletcher, author of Promised Land and The List