The Fiery Crown (Forgotten Empires #2) (Mass Market)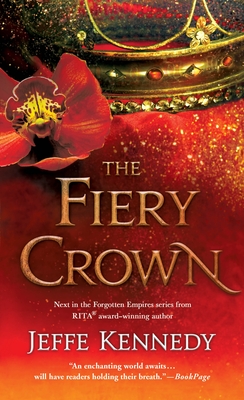 $7.99
Backordered or Out of Print
Other Books in Series
This is book number 2 in the Forgotten Empires series.
Description
---
A desperate alliance. A struggle for survival. And a marriage of convenience with an epic twist of fate come together in Jeffe Kennedy's The Fiery Crown. Perfect for fans of Sarah J. Maas, the lush romantic fantasy world of the Forgotten Empires series will sweep you away.

WILL THEIR LOVE STAND THE TEST OF TIME

Queen Euthalia has reigned over her island kingdom of Calanthe with determination, grace, and her magical, undying orchid ring. After she defied an empire to wed Conrí, the former Crown Prince of Oriel—a man of disgraced origins with vengeance in his heart—Lia expected the wizard's prophecy to come true: Claim the hand that wears the ring and the empire falls. But Lia's dangerous bid to save her realm doesn't lead to immediate victory. Instead, destiny hurls her and Conrí towards a future neither could predict…

OR TEAR THEIR WHOLE WORLD APART?

Con has never healed after the death of his family and destruction of his kingdom—he's been carefully plotting his revenge against his greatest enemy, Emperor Anure, waiting for the perfect opportunity to strike. When Lia's spies gather intelligence suggesting that Anure is planning an attack against Calanthe, Con faces an agonizing choice: Can he sacrifice Lia and all she holds dear to destroy the empire? Or does his true loyalty exist in the arms of his beguiling, passionate wife—'til death do they part?

The Forgotten Empire series is:

"Captivating…engrossing." —Romance Reviews Today

"Sensual fantasy romance you won't want to miss!"—Amanda Bouchet, USA Today bestselling author of The Kingmaker Chronicles

"Action-packed…sexy…highly recommend."—Harlequin Junkie (Top Pick)
About the Author
---
Jeffe Kennedy is an award-winning, best-selling author who writes fantasy with romantic elements and fantasy romance. She is an RWA member and serves on the Board of Directors for SFWA as a Director at Large.

She is a hybrid author who also self-publishes a romantic fantasy series, Sorcerous Moons. Books in her popular, long-running series, The Twelve Kingdoms and The Uncharted Realms, have won the RT Reviewers' Choice Best Fantasy Romance and RWA's prestigious RITA® Award, while more have been finalists for those awards. She's the author of the romantic fantasy trilogy The Forgotten Empires, which includes The Orchid Throne, The Fiery Crown, and The Promised Queen.

Jeffe lives in Santa Fe, New Mexico, with two Maine coon cats, plentiful free-range lizards and a very handsome Doctor of Oriental Medicine.

She can be found online at her website, every Sunday at the SFF Seven blog, on Facebook, on Goodreads and on Twitter.
Praise For…
---
"Kennedy's world building is attentive and luxurious in this middle volume of a trilogy ... Readers looking for a well-balanced blend of romance and fantasy with a gradually building relationship and ever-increasing stakes should give the series a try." - Booklist

"Kennedy's second in the 'Forgotten Empires' trilogy...does an excellent job of setting the stage for the conclusion. ...readers will be fascinated by the secrets revealed." - Library Journal

"A thrilling tale of two strong-willed souls discovering what is truly important to them." - Romance Junkies

Praise for The Orchid Throne

"An enchanting world awaits in The Orchid Throne...With detailed world building and an intriguing cast of characters—especially a warrior woman and an enigmatic and amusing wizard—this captivating story will have readers holding their breath." - BookPage

"An exciting start to a new series." - All About Romance

"I highly recommend this for lovers of fantasy romance who like intricate but not overly complicated worldbuilding, strong characters, and exciting action packed scenes to go along with a sexy love story." - Harlequin Junkie (Top Pick)

"An immediately absorbing and original novel by an author with a distinctive and thoroughly reader engaging narrative storytelling style, "The Orchid Throne" by Jeffe Kennedy will become an immediate and enduringly popular addition to community library Fantasy Fiction collections." - Midwest Book Review

"The Orchid Throne was a moving tale of choices, fate, and loss ... Beautifully written and such a moving love story." - The Nerd Daily

"A captivating read that grows more engrossing with each chapter." - Romance Reviews Today

"This book is smart, sexy - smoldering, really - and so good!" - Read a Romance Month

"A captivating fantasy romance by a writer who knows how to lure you in and hold your attention until the very end. The Orchid Throne is a fascinating fantasy romance novel that I did not want to end!" - Lovely Loveday

"The Orchid Throne is a captivating and sensual fantasy romance you won't want to miss! High stakes. Remarkable worldbuilding. Unique and compelling characters. A slow-burn romance that'll make you combust." – Amanda Bouchet, USA Today bestselling author of The Kingmaker Chronicles

"Jeffe Kennedy's The Orchid Throne is an epic tale of grand scope with its battles and political machinations, and above all, its relentless pursuit of hope in the face of suffering. Con and Euthalia, united in their goal of destroying a usurper emperor, are a perfect match for each other. A beautifully told story of loss, endurance, and abiding devotion from a master of fantasy romance." - Grace Draven, USA Today Bestselling Author of Phoenix Unbound

"Captivating characters and lush descriptions transport readers to the perilous and passionate world of The Orchid Throne. Jeffe Kennedy weaves a potent tale of passion, prophecy, and political intrigue." - Jennifer Estep, New York Times bestselling author

"In Jeffe Kennedy's new book, The Orchid Throne, she offers fabulously intriguing world-building that combines sophisticated decadence with a brutal fight for survival, and sprinkled with a delicious dose of the otherworldly that is sure to delight romantic fantasy readers." - Thea Harrison, New York Times and USA Today bestselling author

"The Orchid Throne captures from the first page and doesn't let go as Jeffe Kennedy weaves a timeless tale of love and survival amidst a lush backdrop of teeming greed and deceit. You will fall for Lia and Con and root for them with every breath you take. This is a book that will linger in your thoughts for a very long time."- Darynda Jones, New York Times bestselling author