A Study in Treason: A Daughter of Sherlock Holmes Mystery (The Daughter of Sherlock Holmes Mysteries #2) (CD-Audio)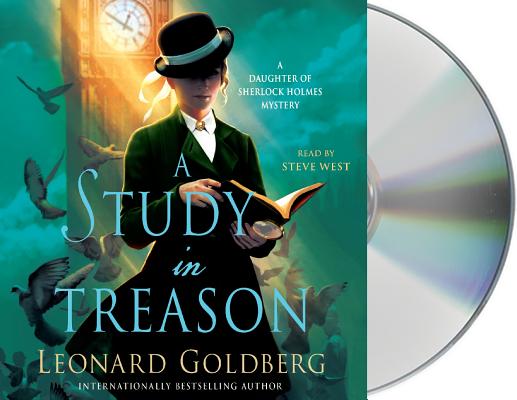 $39.99
Backordered or Out of Print
Other Books in Series
This is book number 2 in the The Daughter of Sherlock Holmes Mysteries series.
Description
---
A seemingly impossible mystery tests the keen mind and forensic skills of Joanna Blalock, the daughter of Sherlock Holmes and the heir to his unique talent for deduction, from USA Today bestselling author Leonard Goldberg.

The following case has not previously been disclosed to the public due to the sensitive information on foreign affairs. All those involved were previously bound by the Official Secrets Act. With the passage of time and the onset of the Great War, these impediments have been removed and the story can now be safely told.

When an executed original of a secret treaty between England and France, known as the French Treaty, is stolen from the country estate of Lord Halifax, Scotland Yard asks Joanna, Dr. John Watson, Jr., and Dr. John Watson, Sr. to use their detective skills to participate in the hunt for the missing treaty. As the government becomes more restless to find the missing document and traditional investigative means fail to turn up the culprit, Joanna is forced to devise a clever plan to trap the thief and recover the missing treaty.

Told from the point of view of Dr. John Watson, Jr. in a style similar to the original Sherlock Holmes stories, A Study in Treason is based partly on facts in our world and partly on the facts left to us by Sir Arthur Conan Doyle.

A Study in Treason is the perfect audiobook for fans of Sherlock Holmes.
About the Author
---
Leonard Goldberg is the USA Today bestselling author of the Joanna Blalock medical thrillers. His novels have been translated into a dozen languages and were selections of the Book of the Month Club, French and Czech book clubs, and The Mystery Guild. They were featured as People's "Page-Turner of the Week" and at the International Book Fair. After a long career affiliated with the UCLA Medical Center as a Clinical Professor of Medicine, he now lives on an island off the coast of Charleston, SC.
Praise For…
---
Praise for A Study in Treason:

"Goldberg matches the style of Conan Doyle's stories and adds the fillip of a female protagonist." —Kirkus Reviews

"Avid Sherlockians will be delighted with the many echoes of the original Holmes canon." —Publishers Weekly

"There is plenty of pleasure to be found here for lovers of Holmes pastiches." —Booklist

"The second in the Daughter of Sherlock Holmes series shows Joanna Blalock, daughter of Holmes and Irene Adler, at the top of her detecting game. Narrator Steve West is quite amazing transforming himself into Dr. Watson, his son and, most impressively, into Joanna. ...Don't miss the fun!" -AudioFile

Praise for The Daughter of Sherlock Holmes:

"Fans of Sherlock Holmes will be thrilled to meet his fearless and brilliant daughter, Joanna. Once again the game's afoot, and a new Holmes and Watson unite to solve the unsolvable in this delightful adventure by Leonard Goldberg." —Tess Gerritsen, New York Times bestselling author of I Know a Secret

"Cleverly crafted with fascinating characters and a plot that Conan Doyle would be proud of. Sherlock fans looking for a new series need look no further than Goldberg's well developed and fascinating tale!" —M.J. Rose, New York Times bestselling author

"Adventure, murder, family secrets and intrigue are abound in this novel, which has incredible characters who are charming, cunning and smart as a whip. Goldberg has successfully intertwined historical facts with fiction, and has created a must-read novel for fans of historical mystery and of Sherlock Holmes." —RT Book Reviews

"The Daughter of Sherlock Holmes is a nicely rendered tale that will appeal to Sherlockian readers of all shades. The language and settings are faithful to Arthur Conan Doyle's original stories. John Jr. acts as narrator rather than Dr. Watson, and Joanna is an alluring replacement for the great detective.... The rigorous, well-placed clues, an unexpected and satisfying climactic twist, and the likable Joanna make this a welcome addition to the Sherlock Holmes world." —Mystery Scene

"This clever book will keep you on the edge of your seat with its many thrilling twists and turns. The plot is worthy of Conan Doyle's originals, and I hope to see many more adventures of Joanna Blalock and John Watson, Jr." —Historical Novel Society

"Goldberg's Sherlock Holmes pastiche is pitch-perfect as John Watson Jr. becomes the voice of a new generation and Joanna Blalock takes on her role as leader of the investigation. Fans of Laurie R. King's "Mary Russell" books will welcome a fellow female to the ranks of Holmes followers." —Library Journal

"Goldberg, well-known for his medical thrillers, fuels the unquenchable fascination with Sherlock Holmes by combining detailed medical knowledge with the skills reincarnated in the Great Detective's daughter." —Kirkus Reviews

"Engaging... Joanna is Holmes' daughter, even down to echoing the great man's occasional lapses into smugness: 'Allow me to draw your attention....'" —Booklist

"A compelling murder mystery that's genuinely difficult to solve without the help of Mrs. Blalock and Dr. Watson." —Reviewing the Evidence blog

"Here's a charming cozy with a new and delightful spin on the Holmes and Watson partnership.... The game is afoot once more! I look forward to following this engaging series." —BookLoons blog

"The game is definitely afoot. Readers can follow along as they uncover clues, play with theories, and do their best to uncover the truth that will solve the case. There's danger, misdirection, surprises, a bit of romance, and characters that are interesting and believable." —Gumshoe Review