Operational Updates
Click HERE for the most updated hours, customer guidelines and updates to store policy.
Tom Clancy's Op-Center: God of War: A Novel (Paperback)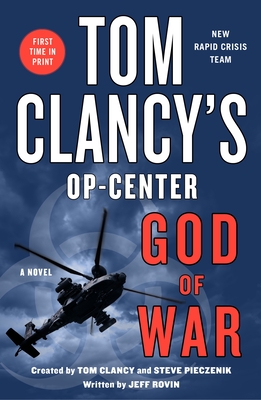 $17.99
Usually Ships in 1-5 Days
Description
---
In Jeff Rovin's Tom Clancy's Op-Center: God of War, after the devastating outbreak of a killer super virus, the Black Wasp Team must prevent America's enemies from gaining access to the most dangerous weapon the world has ever seen.

The passengers and crew on an Airbus en route to Australia suddenly begin coughing up blood and hemorrhaging violently as the plane plunges to the ground. There are no survivors.

A luxury yacht in the South Indian Sea blows up, and a lone woman escapes the contagion that has inexplicably killed everyone else on the boat.

A helicopter whose occupants have been stricken by an unknown illness crashes into a bridge in South Africa, killing motorists and pedestrians.

The world is facing a devastating bio-terror event, and a game of brinksmanship gets underway as the major powers jockey for position: China sends a naval flotilla to seek the source of the plague and find a way to weaponize it, while Russia maneuvers quietly on the sidelines to seize the deadly prize in its quest to regain an empire. Back in Washington D.C., Chase Williams and his top-secret Black Wasp special ops team must find out who is behind these deadly attacks before war is unleashed—and millions of innocent lives are lost.
About the Author
---
Jeff Rovin has written dozens of novels, most notably Tom Clancy's Op-Center and its sequels, several of which have appeared on the New York Times bestseller list. He's written nonfiction books about myths, religion, and the Bible and brings that research to bear in Conversations With the Devil. Rovin lives in the New York area.

Tom Clancy's many thrillers include The Hunt for Red October, Patriot Games and Clear and Present Danger. He died in 2013.

Steve Pieczenik is an author and co-creator of Tom Clancy's Op-Center series.
Praise For…
---
"Rovin capably orchestrates all the players en route to the explosive climax." —Publishers Weekly

Praise for the OP-CENTER series:

"Military action fans will be rewarded." —Publishers Weekly for Sting of the Wasp

"[A]ll the elements seamlessly click into place. Clancy would be proud."—Publishers Weekly for For Honor

"A top-notch military thriller, combining politics, suspense, and action." —Booklist for Into the Fire