The Abduction of Pretty Penny: A Daughter of Sherlock Holmes Mystery (The Daughter of Sherlock Holmes Mysteries #5) (Hardcover)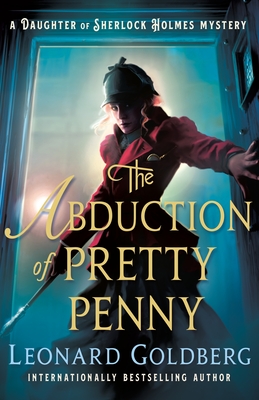 $26.99
Backordered or Out of Print
Other Books in Series
This is book number 5 in the The Daughter of Sherlock Holmes Mysteries series.
Description
---
A continuation of USA Today bestselling author Leonard Goldberg's Daughter of Sherlock Holmes series, The Abduction of Pretty Penny finds Joanna and the Watsons on the tail of an infamous killer.

Joanna and the Watsons are called in by the Whitechapel Playhouse to find Pretty Penny, a lovely, young actress who has gone missing without reason or notice. While on their search, the trio is asked by Scotland Yard to join in the hunt for a vicious murderer whose method resembles that of Jack The Ripper. It soon becomes clear that The Ripper has reemerged after a 28-year absence and is once again murdering young prostitutes in Whitechapel.

Following a line of subtle clues, Joanna quickly reasons that Pretty Penny has been taken capture by the killer. But as Joanna moves closer to learning his true identity, the killer sends her a letter indicating her young son Johnny will be the next victim to die. Time is running out, and Joanna has no choice but to devise a most dangerous plan which will bring her face-to-face with the killer. It is the only chance to protect her son and rescue Pretty Penny, and save both from an agonizing death.

The Abduction of Pretty Penny is a wonderful new entry in a series that the Historical Novel Society calls "one of the best Sherlock Holmes series since Laurie R. King's Mary Russell books."
About the Author
---
Leonard Goldberg is the USA Today bestselling author of the Joanna Blalock medical thrillers. His novels have been translated into a dozen languages and were selections of the Book of the Month Club, French and Czech book clubs, and The Mystery Guild. They were featured as People's "Page-Turner of the Week" and at the International Book Fair. After a long career affiliated with the UCLA Medical Center as a Clinical Professor of Medicine, he now lives on an island off the coast of Charleston, SC.
Praise For…
---
Praise for The Abduction of Pretty Penny:

"Goldberg weaves a tightly packed narrative…..throw the Watsons and Holmes into the mix, and you've got yourself a tremendous late-night read!" —Historical Mystery Review

"Leonard Goldberg's latest installment in The Daughter of Sherlock Holmes series is filled with a classic Sherlockian vibe...What truly stands out in this novel is the writing and dialogue." —Reviewing the Evidence

"The story is excellent and engaging…There is certainly enough angst, tension and misdirection to keep the pages turning and the reader involved to the last page." —Gumshoe Review

"Leonard Goldberg's cozy mystery spin on the Holmes/Watson partnership involves the Baker Street Irregulars to track the suspects, aided by 'the keenest nose in all London.' This is an appealing series." —Bookloons

"Compelling, with clever revelations and pithy dialogue—a worthy successor to Conan Doyle's original" —Charleston Post and Courier

"A perfect summer read" —Red Carpet Crash

"The Abduction of Pretty Penny is darker in tone than the other books in the series...But like the others in the series, this one is very well written, with clever dialogue...I highly recommend this latest in an excellent series." —Historical Novel Society

"Take a dive into the darker side of London and start with the first book of the series and work your way to this one. You won't be disappointed. Great reads and very entertaining." —The Champaign News-Gazette

Praise for the Daughter of Sherlock Holmes Series:

"Goldberg's Sherlock Holmes pastiche is pitch-perfect..." —Library Journal

"Avid Sherlockians will be delighted with the many echoes of the original Holmes canon." —Publishers Weekly

"Fans of the original mysteries will get a chuckle out of the antic language, and there is a mercurial Mary Poppins appeal to this not-to-be-trifled-with heroine that will appeal to fans beyond Baker Street." —Booklist

"Holmes lovers will enjoy the intricate Sherlockian reasoning Joanna and Johnny bring to the puzzle." —Publishers Weekly on The Art of Deception

"Fans of all things Sherlock-ian will delight in Joanna, so like her father and already training her schoolboy son, Johnny, in the methods that have solved so many cases like this exceptionally tricky one." —Kirkus Reviews on The Disappearance of Alistair Ainsworth

"Suspenseful and entertaining, with many twists and turns....This is one of the best Sherlock Holmes series since Laurie R. King's Mary Russell books." —Historical Novel Society