The Pandora Room: A Novel (Paperback)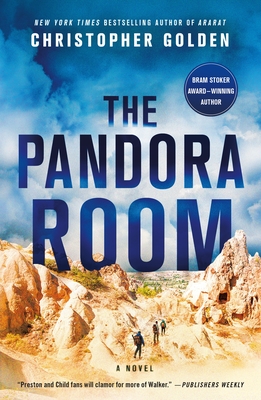 $17.99
Backordered or Out of Print
Description
---
"A wonderful, wild ride." —Michael Koryta, New York Times Bestselling author of How It Happened and If She Wakes

When what appears to be the original Pandora's Box is discovered in an ancient city, neighboring countries fight for ownership and unleash a terrible plague.

The Pandora Room is New York Times bestselling author Christopher Golden's chilling exploration of what happens when the original Pandora's Box is discovered in an ancient subterranean city, stirring international conflict and exposing the archaeological team to curses, whispers, and the terror of a legendary plague.

In one ancient variation on the myth of Pandora's Box, there were two jars, one for Pandora and one for her sister, Anesidora. One contained all the blessings of the gods, the other all the world's curses. Now, in a subterranean city in Northern Iraq, archaeologist Sophie Durand has discovered a secret chamber covered in writing that confirms that version of the tale—a chamber which contains a single jar. "Weird shit" expert Ben Walker joins Sophie's team just as the mystery deepens and grows ugly. Those who believe the myth want to know which jar has been found in the Pandora Room, the one containing blessings, or the one full of curses. Governments rush to lay claim, but jihadi forces aren't waiting for the dust to settle. Whatever the jar contains, they want it, no matter who they have to kill…or what will emerge when they open it. For Sophie, Walker, and the others, the Pandora Room may soon become their tomb.
About the Author
---
CHRISTOPHER GOLDEN is the award-winning, bestselling author of such novels as The Myth Hunters, The Boys Are Back in Town, Strangewood, and Of Saints and Shadows. He co-wrote the lavishly illustrated novel Baltimore, or, The Steadfast Tin Soldier and the Vampire with Mike Mignola, and the comic book series featuring the same character. His novel Ararat won the 2017 Bram Stoker Award for best horror novel.