Endgames (The Imager Portfolio #12) (Hardcover)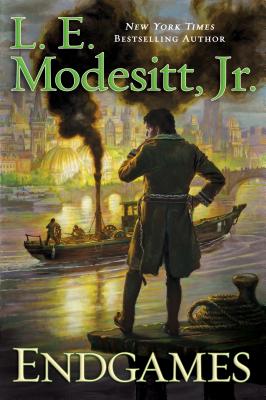 $28.99
Backordered or Out of Print
Other Books in Series
This is book number 12 in the The Imager Portfolio series.
Description
---
Endgames is the stunning final volume in L. E. Modesitt, Jr's, New York Times bestselling epic fantasy series the Imager Portfolio, and the fourth book in the story arc that began with Madness in Solidar through Treachery's Tools and Assassin's Price.

Solidar is in chaos.

Charyn, the young and untested ruler of Solidar, has survived assassination, and he struggles to gain control of a realm in the grip of social upheaval, war, and rioting. Solidar cannot be allowed to slide into social and political turmoil that will leave the High Holders with their ancient power and privilege, and the common people with nothing.

But the stakes are even higher than he realizes.

The Imager Portfolio
#1 Imager / #2 Imager's Challenge / #3 Imager's Intrigue / #4 Scholar / #5 Princeps / #6 Imager's Battalion / #7 Antiagon Fire / #8 Rex Regis / #9 Madness in Solidar / #10 Treachery's Tools / #11 Assassin's Price / #12 Endgames

Other series by L. E. Modesitt, Jr.
The Saga of Recluce
The Corean Chronicles
The Spellsong Cycle
The Ghost Books
The Ecolitan Matter
About the Author
---
L. E. Modesitt, Jr., is the bestselling author of the fantasy series The Saga of Recluce, Corean Chronicles, and the Imager Portfolio. His science fiction includes Adiamante, the Ecolitan novels, the Forever Hero Trilogy, and Archform: Beauty. Besides a writer, Modesitt has been a U.S. Navy pilot, a director of research for a political campaign, legislative assistant and staff director for a U.S. Congressman, Director of Legislation and Congressional Relations for the U.S. Environmental Protection Agency, a consultant on environmental, regulatory, and communications issues, and a college lecturer. He lives in Cedar City, Utah.
Praise For…
---
Praise for Endgames

Locus New & Notable Books for April 2019

"Absorbing and involving—a fully satisfying conclusion to this particular story arc."—Kirkus Reviews

"Reading [Modesitt] is always a pleasure."—SF Crowsnest

Praise for L. E. Modesitt, Jr.

"There is something so satisfying about picking up a novel by an author who's consistently good at his or her craft." —RT Book Reviews

"How satisfying it is to settle down with another long, solid novel by L.E. Modesitt, Jr." —SF Crowsnest

"The level of detail Modesitt brings to his world-building is, as always, both uncompromising and astonishing." —Tor.com

"Modesitt writes with skill in creating a world that is believable, and the characters are so nuanced that readers will become immersed in their lives and relationships." —Deseret News

"Modesitt produces some of the best fantasy novels published." —SFRevu

"The author excels in creating worlds that are believable down to the last detail and characters whose vitality expresses itself in actions that have resounding consequences." —Library Journal


"L. E. Modesitt, Jr., has long been a pillar of the fantasy genre for well over two decades." —Guardian Liberty Voice