Spine of the Dragon: Wake the Dragon #1 (Hardcover)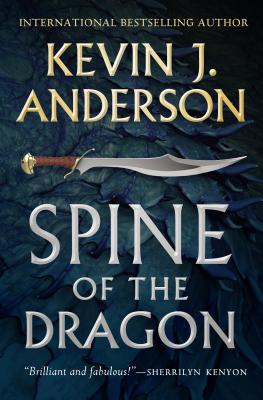 $26.99
Backordered or Out of Print
Description
---
New York Times bestselling author Kevin J. Anderson triumphantly returns to epic fantasy with the Wake the Dragon series. Spine of the Dragon is a politically charged adventure of swords, sorcery, vengeance, and the rise of sleeping giants.

Two continents at war, the Three Kingdoms and Ishara, are divided by past bloodshed. When an outside threat arises—the reawakening of a powerful ancient race that wants to remake the world—the two warring nations must somehow set aside generational hatreds and form an alliance to fight their true enemy.
About the Author
---
Kevin J. Anderson has written dozens of national bestsellers and has been nominated for the Hugo Award, the Nebula Award, the Bram Stoker Award, and the SFX Readers' Choice Award. His critically acclaimed original novels include the ambitious space opera series The Saga of Seven Suns, including The Dark Between the Stars, as well as Wake the Dragon epic fantasy trilogy, and the Terra Incognita fantasy epic with its two accompanying rock CDs. He also set the Guinness-certified world record for the largest single-author book signing, and was recently inducted into the Colorado Authors' Hall of Fame.
Praise For…
---
"This epic fantasy takes readers on a sometimes brutal, often enthralling journey."—Publishers Weekly (starred review)

"A brisk and engaging narrative."—Booklist

"The pages turn almost by themselves, because you absolutely, categorically have to find out what happens next."—Kirkus

"One can read the Imager stories as straight fantasy, or as the closest of social commentaries ... without ever degenerating into mere "message" fiction. . . . [T]hey are artful, loving, and lovely configurations of the human experience during transitions one every sort."—The Nameless Zine

"An epic fantasy that has all the complexity and depth of Dune."—Nerd Alert News

"A beautifully written and gripping read."—The American Conservative

"Engaging."—Multiverse

"A must-read for any fantasy fan, brilliant and fabulous! One of the greatest talents writing today, Kevin J. Anderson is a master of adventures that are filled with dynamic, unforgettable characters." —Sherrilyn Kenyon

"A fast-paced, enjoyable read. Concise description is paired with immediate action that plunges the reader irrevocably into a world teetering on the brink of a conflagration." —Robin Hobb

"A setting so rich and detailed that the reader will suspend disbelief and actually be there." —R.A. Salvatore

"Just what fantasy readers lust after—a complex and intricately detailed universe descending into a war. The details of this exotic world are exquisite. The sprawling cast of characters and creatures is fascinating. The action is terrifying. Let the mayhem begin." —Terry Goodkind

"A hell of a kick-off to a new series."—The NerdBlitz