Vengewar (Wake the Dragon #2) (Hardcover)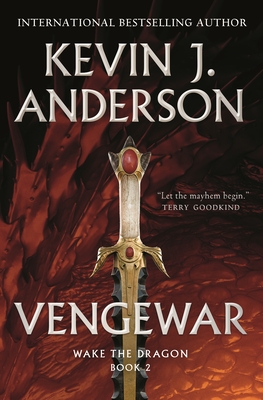 $29.99
Backordered or Out of Print
Description
---
Kevin J. Anderson's sequel to Spine of The Dragon brings bitter rivalry and blood feud—that might be the downfall of the human kingdoms.

Two continents at war, the Three Kingdoms and Ishara, have been in conflict for a thousand years. But when an outside threat arises—the reawakening of a powerful ancient race that wants to remake the world—the two warring nations must somehow set aside generations of hatred to form an alliance against a far more deadly enemy. Book One awakened the great dragon, and set the kingdoms at each other's throats.

In Book Two, Vengewar, the Three Kingdoms are shattering under pressure from an inexperienced new King who is being led by an ambitious regent to ignore the threat of the Wreths, in favor of a Vengewar with Ishara. His brother and uncle can see only the danger of the Older Race.

In Ishara, the queen lies in a coma, while an ambitious priest seizes power. But he has neither the training nor the talent to rule a nation— or even a city. Ishara is in deadly peril, and the Wreths have not even appeared on their continent.
About the Author
---
Kevin J. Anderson has written dozens of national bestsellers and has been nominated for the Hugo Award, the Nebula Award, the Bram Stoker Award, and the SFX Readers' Choice Award. His critically acclaimed original novels include the ambitious space opera series The Saga of Seven Suns, including The Dark Between the Stars, as well as Wake the Dragon epic fantasy trilogy, and the Terra Incognita fantasy epic with its two accompanying rock CDs. He also set the Guinness-certified world record for the largest single-author book signing, and was recently inducted into the Colorado Authors' Hall of Fame.
Praise For…
---
"Large-scale battles, magic, and multiple exciting story lines meld together to create a thrilling adventure." —Publishers Weekly

"Building to a nail-biting climax, leaving fans eager for the next volume in the Wake
the Dragon series." —Booklist