A Highlander Walks into a Bar: A Highland, Georgia Novel (Mass Market)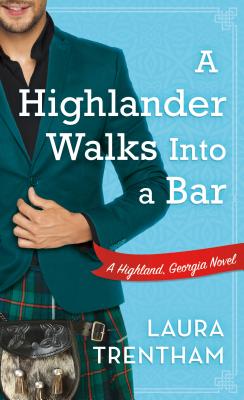 Description
---
The timeless romance, soaring passion—and gorgeous men—of Scotland come to modern-day America. And the rules of love will never be the same…
Isabel Buchanan is fiery, funny, and never at a loss for words. But she is struck speechless when her mother returns from a trip to Scotland with a six-foot-tall, very handsome souvenir. Izzy's mother is so infatuated by the fellow that Izzy has to plan their annual Highland Games all by herself. Well, not completely by herself. The Highlander's strapping young nephew has come looking for his uncle…
Alasdair Blackmoor has never seen a place as friendly as this small Georgia town—or a girl as brilliant and beguiling as Izzy. Instead of saving his uncle, who seems to be having a lovely time, Alasdair decides he'd rather help Izzy with the Highland Games. Show her how to dance like a Highlander. Drink like a Highlander. And maybe, just maybe, fall in love with a Highlander. But when the games are over, where do they go from here?
"Laura Trentham creates a romance that is both extremely sensual and phenomenal."
—Fresh Fiction
About the Author
---
An award-winning author, Laura Trentham was born and raised in a small town in Tennessee. Although, she loved English and reading in high school, she was convinced an English degree equated to starvation. She chose the next most logical major—Chemical Engineering—and worked in a hard hat and steel toed boots for several years.
She writes sexy, small town contemporaries and smoking hot Regency historicals. The first two books of her Falcon Football series were named Top Picks by RT Book Reviews magazine. Then He Kissed Me, a Cottonbloom novel, was named as one of Amazon's best romances of 2016. When not lost in a cozy Southern town or Regency England, she's shuttling kids to soccer, helping with homework, and avoiding the Mt. Everest-sized pile of laundry that is almost as big as the to-be-read pile of books on her nightstand.
Praise For…
---
"Trentham's series launch is a witty twist on romantic clichés...Lies, misunderstandings, sensual romance, humor, a fast-moving plot, and delightful characters: this novel has it all." - Publishers Weekly

"Trentham opens this new series with a delightful comedy where all good intentions go wrong but the banter is just right." - Kellie Tilton, Univ. of Cincinnati Blue Ash