The Island: A Thriller (The Hulda Series #2) (Paperback)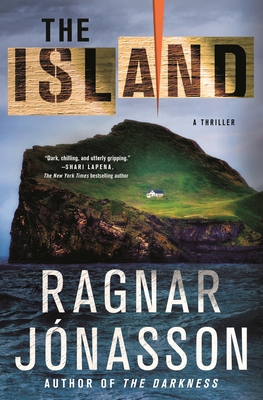 $17.99
Backordered or Out of Print
Other Books in Series
This is book number 2 in the The Hulda Series series.
Description
---
The newest superstar on the Icelandic crime fiction scene has arrived with a superb followup to The Darkness.

Shortlisted for the Crime Novel of the Year Award in Iceland
Third Place, Novel of the Year Award 2016 in Iceland, selected by booksellers
One of the bestselling novels in Iceland in 2016

Autumn of 1987 takes a young couple on a romantic trip in the Westfjords holiday—a trip that gets an unexpected ending and has catastrophic consequences.

Ten years later a small group of friends go for a weekend in an old hunting lodge in Elliðaey. A place completely cut off from the outside world, to reconnect. But one of them isn't going to make it out alive. And Detective Inspector Hulda Hermannsdóttir is determined to find the truth in the darkness.

Ragnar Jónasson burst onto the American scene with Snowblind and Nightblind, the first two novels in the Ari Thor thriller series, and the praise was overwhelming. With The Darkness, he launched a new series featuring a completely new sleuth, Detective Inspector Hulda Hermannsdottir of the Reykjavik Police department. The Island is the second book in this series.
About the Author
---
RAGNAR JÓNASSON is an international number one bestselling author who has sold over three million books in thirty-six countries worldwide. His books include the Dark Iceland series and the Hulda series. Jónasson was born in Reykjavik, Iceland, where he also works as an investment banker and teaches copyright law at Reykjavik University. He has previously worked on radio and television, including as a TV news reporter for the Icelandic National Broadcasting Service, and, since the age of seventeen, has translated fourteen of Agatha Christie's novels. Jónasson is the co-founder of the Reykjavik international crime writing festival Iceland Noir. His critically acclaimed international bestseller The Darkness is soon to be a major TV series, and Outside is soon to be a feature film. Jónasson lives in Reykjavik with his wife and two daughters.
Praise For…
---
Ragnar Jonasson hailed as one of "the heirs to the Agatha Christie crown" by The Daily Telegraph (UK).

"Jonasson is an automatic must-read for me ... possibly the best Scandi writer working today." —Lee Child, internationally bestselling author of the Jack Reacher thrillers

"One of the author's best plots, layered with that dour Scandinavian atmosphere we love." —New York Times Book Review

"[Will] snatch you up by surprise and carry you along in unrelenting suspense....If you relish seeing how ordinary people of good heart and intentions can get twisted off the right path, and sink deeper into serious trouble while they wrestle with their consciences, then The Island will satisfy your desire to think, feel, and shudder to its logical and somewhat surprising resolution." —New York Journal of Books

"Masterly...Jónasson delivers a mind-bending look into human darkness that earns its twists." —Publishers Weekly (starred review)

"Jónasson, who could give lessons on how to sustain a chilly atmosphere, sprinkles just enough hints of ghostly agents to make you wonder if he's going to fall back on a paranormal resolution to the mystery. Don't worry: The solution is both uncanny and all-too-human." —Kirkus Reviews

"Brilliantly plotted." —Dayton Daily News

"The Island was short-listed for Crime Novel of the Year Award in Iceland. Read it, and you will see why."
—BookPage (Top Pick for June)

"Full of atmospheric suspense, this Scandanavian noir novel will send chills down your spine on even the hottest summer day." —Franklin Lifestyle

"Dark, chilling and utterly gripping, The Island is Nordic noir at its best, and is destined to become a classic of the genre. I couldn't put it down. I can't wait to read the rest of the Hulda series!" —Shari Lapena, New York Times bestselling author of An Unwanted Guest

"Ragnar Jonasson writes fire-and-ice novels: white-hot suspense stories set in the magnificent, forbidding terrain of his native Iceland. Few writers at work today conjure atmosphere with such power, or plot their mysteries with such craft. And The Island is his best book yet, an unflinching thriller that braids past and present, good and evil, love and loss. I can't wait for Hulda Hermannsdóttir's next case." —A.J. Finn, #1 New York Times bestselling author of The Woman in the Window

Praise for The Darkness:

"Jónasson pulls no punches as this grim tale builds to its stunning conclusion, one of the more remarkable in recent crime fiction. Fans of uncompromising plotting will be satisfied." —Publishers Weekly (starred review and book of the week)

"The Darkness melds an insightful character study with a solid plot for an outstanding novel." —Washington Post

"A complex, fascinating mix of Icelandic community and alienation, atmospheric tension, and timely issues (immigrant exploitation and vigilante justice), Jónasson's latest series is another must-read for crime fans who follow the work of Arnaldur Indridason and Yrsa Sigurdardóttir." —Booklist (starred review)

"As an older female detective, Hulda is a refreshing addition to the genre. This intricate and timely work explores the dehumanization of refugees, sexism in the police force, aging, and more without overwhelming the core mystery. VERDICT: This heart-pounding tale will appeal to fans of Camilla Lackberg and those looking for a darker, more modern Agatha Christie-type mystery." —Library Journal

"If you think you know how frigid Iceland can be, this blistering stand-alone from Jónasson has news for you: It's much, much colder than you've ever imagined. Warmly recommended for hot summer nights." —Kirkus Reviews

"The Darkness is a bullet train of a novel, at once blazingly contemporary and Agatha-Christie old-fashioned. With prose as pure and crisp as Reykjavik snowcrust, Ragnar Jónasson navigates the treacherous narrative with a veteran's hand. I reached the end with adrenalized anticipation, the final twist hitting me in the face. I dare you not to be shocked." —Gregg Hurwitz, New York Times bestselling author

"I'm absolutely LOVING Ragnar Jonasson's The Darkness. In all honesty, I might even be loving this new series more than I loved the launch of Ragnar's Dark Iceland series, Snowblind—and that's saying a lot.... If you love atmospheric, slow-burning yet totally addictive police procedurals, you have to add this book to your TBR. The Darkness is downright fantastic." —Crime by the Book blog

"I thoroughly enjoyed this author's writing style and emphasis on the atmosphere of the storyline and its characters. He is quite the master of creating such a vivid setting in which you as a reader almost feel like you are transported into the story. I am definitely looking forward to Ragnar's next book in this series! I highly recommend this read to fans of suspense and thrillers..." —The Reading Beauty Blog

"[I] was gripped from the start of this brilliantly told story. And left wide-eyed with shock at the ending" —FIONA BARTON, bestselling author of The Widow

"... magnificently dark and twisted! That ending - blimey!" —C.J. TUDOR, bestselling author of The Chalk Man

"The Darkness is a true masterpiece of a crime novel, introducing an original protagonist, a plot full of twists and turns and an ending that leaves you gasping for air." —Yrsa Sigurdardottir, bestselling Icelandic crime writer

"The Darkness is Ragnar Jonasson at the top of his game - deft plotting, a great central character and a story as chilling as the Icelandic winter. I couldn't put it down." —William Ryan, bestselling author of The Holy Thief

"Just finished The Darkness ... oh WOW!" —Helen Callaghan, bestselling author of Dear Amy