How to Best A Marquess (The Widow Rules #3) (Mass Market)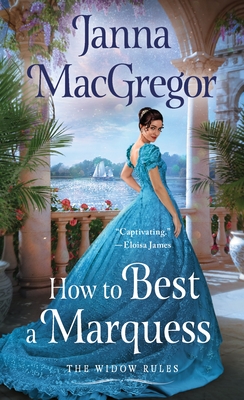 Other Books in Series
This is book number 3 in the The Widow Rules series.
Description
---
Beth Howell needs to find her dowry, post haste. After her good-for-nothing first husband married her—and two other women, unbeknownst to them all—she's left financially ruined and relegated to living with her brother, who cares more for his horses than he does his blood relatives. If Beth fails to acquire her funds, her brother will force her to marry someone fifty years her senior and missing half his teeth. She'd prefer to avoid that dreadful fate. But her now-deceased husband, Meri, absconded with her money mere days after their illegitimate marriage. To find it, Beth will have to leave town and retrace Meri's steps if she's to take her future into her own hands.

Julian Raleah, Marquess of Grayson, cares not a whit for social norms and generally growls at anyone in his path. Grayson has had a heart of stone ever since his engagement to Beth Howell went down in flames—long before she married that cad, Meri, and sealed her own fate for good. But now she's on his doorstep, asking for use of his carriage and accompaniment on the hunt to find her lost dowry. Surely Grayson cannot go on the road with the woman who has occupied his thoughts for the past decade. Yet, knowing she needs him, how can he resist helping her this one last time? And maybe that's just enough time to change the ending to their over-too-soon love story.
About the Author
---
Janna MacGregor was born and raised in the bootheel of Missouri. She is the author of the Cavensham Heiresses series, which begins with The Bad Luck Bride.

Janna credits her darling mom for introducing her to the happily-ever-after world of romance novels. Janna writes stories where compelling and powerful heroines meet and fall in love with their equally matched heroes. She is the mother of triplets and lives in Kansas City with her very own dashing rogue, and two smug, but not surprisingly, perfect pugs. She loves to hear from readers.