The Grief of Stones (The Chronicles of Osreth #2) (Paperback)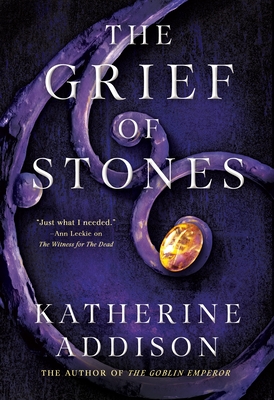 $17.99

NOT ON OUR SHELVES- available for order, usually ships in 1-5 days
Other Books in Series
This is book number 2 in the The Chronicles of Osreth series.
Description
---
In The Grief of Stones, Katherine Addison returns to the world of The Goblin Emperor with a direct sequel to The Witness for the Dead...

Locus Award Finalist!

Book of the Month picks for BUZZFEED | LITHUB | GIZMODO | TRANSFER ORBIT | Amazon | Locus Magazine | and more

As a Witness for the Dead, Thara Celehar can speak to the recently departed: see the last thing they saw, know the last thought they had, experience the last thing they felt. It is his duty to use that ability to ascertain the intent of the dead and to find the killers of the murdered. Celehar's time in the city of Amalo has brought him both friends and enemies—and no little notoriety. Now, when solving the murder of a marquise raises more questions than it answers, he finds himself exploring Amalo's dark underside.

His investigations lead him to the Cemchelarna School for Foundling Girls, where all is not as it seems. Discovering the truth about its headmistress will lead Celehar deep into the city's history—and into the shattering depths of the loss he fears the most.

Within THE CHRONICLES OF OSRETH

The Goblin Emperor

The Cemeteries of Amalo trilogy
The Witness for the Dead
The Grief of Stones
The Tomb of Dragons
About the Author
---
KATHERINE ADDISON's short fiction has been selected by The Year's Best Fantasy and Horror and The Year's Best Science Fiction. The Goblin Emperor won the 2015 Locus Award for Best Fantasy Novel and was a finalist for the Hugo, the Nebula, and the World Fantasy Award. The Angel of the Crows was nominated for the 2021 Locus Award. As Sarah Monette, she is the author of the Doctrine of Labyrinths series and co-author, with Elizabeth Bear, of the Iskryne series. She lives near Madison, Wisconsin.
Praise For…
---
"Despite the high-stakes plotting, these short yet immersive fantasy detective novels are pleasantly quiet and optimistic." —Buzzfeed News

"A delightful story that will satisfy readers of both fantasy and mystery."—Library Journal, starred review

"Intriguing and well-plotted fantasy mystery. The author's fans will welcome the chance to continue exploring Amalo alongside this mild-mannered but tenacious detective." — Booklist, starred review

"Addison has striking command of language, a precision of phrase that's a delight to read and a pleasure to read again. If you enjoy atmospheric, thoughtful, well-characterised mys­teries with compelling characters and a compe­tent, kind, and modest protagonist, I recommend The Grief of Stones highly. Hell, even if you don't think you like such things, try this one (or its predecessor). It's a great book."—Locus

"The Grief of Stones shows us how a single person builds a family of choice, and what that family means to him in a crisis. . . . Celehar's pursuit of truth and justice, with the obstacles and monsters he faces, is a more than sufficient reason to read The Grief of Stones. Addison's world-building is also terrific, with each page etching the image of a incredibly old society (and one difficult to traverse, both physically and socially). " — Milwaukee Journal Sentinel

"Our titular Witness begins forging more relationships among the living, yet is still compelled to exhume one of the city's most gruesome secrets.... The Goblin Emperor hit the very niche spot of cozy fantasy while still having very dark underpinnings... Addison... has kept that note of death and how it affects the living."— Lithub

"An excellent third entry in an absolutely wonderful series. Katherine Addison has built a world that could easily fuel more and more of these – let's hope it does."—Mystery & Suspense Magazine

"Excellent series. I hope there will be more."—Philadelphia Science Fiction Society

"Immersive sequel. . . . Thoroughly entertaining. . . . The plot masterfully blurs the line between fantasy and mystery, and Addison turns her brilliant character building to the common folk of Amalo, fleshing out the citizens with heart-wrenching backstories and addressing and ameliorating the world's societal ills."—Publishers Weekly

Praise for The Cemeteries of Amalo series

"I've been wanting to return to the world of 'The Goblin Emperor' from the moment I finished that book, and 'The Witness For the Dead' does not disappoint. At once intimate and literally operatic, it's everything I love about Katherine Addison's writing, in ways I didn't know to expect. I loved it." — John Scalzi

"I enjoyed the book so very much. It was really exactly the sort of thing I needed to read." — Ann Leckie

"Is there anything greater than discovering a genius in our midst?... I adored The Goblin Emperor, and Witness for the Dead—also set amongst the elves, airmen, goblins, and ghouls of that world—packs another lightning-fisted literary wallop...It rocks all my hot spots. Addison lavishes her ardent readers with adventure, new friendships, invisible enemies, and rewards us with her uncommon depths, subtleties, and kindnesses." — C.S.E. Cooney

"Left me with feelings of warmth and hope for humanity." — Margaret Rogerson, New York Times bestselling author of Sorcery of Thorns

"The follow-up to the acclaimed The Goblin Emperor brings back a favorite character and expands the elaborate world Addison has created. Fans of the first book—and new readers—will find this novel delightful and immersive." — Library Journal

"A remarkably hopeful story of a single decent person doing his best in a difficult situation." –io9

"Ambitious and meticulously executed worldbuilding brings an animated dazzle to this exceptional assemblage of character studies and complex encounter."– Publishers Weekly

"A spellbinding and genuinely affecting drama. Unreservedly recommended." –Kirkus Reviews