The Last Drop of Hemlock: A Mystery (The Nightingale Mysteries #2) (Hardcover)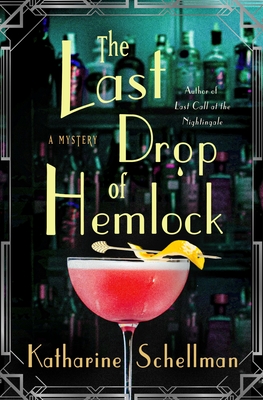 $28.00

NOT ON OUR SHELVES- available for order, usually ships in 1-5 days
Other Books in Series
This is book number 2 in the The Nightingale Mysteries series.
Description
---
In The Last Drop of Hemlock, the dazzling follow up to Last Call at the Nightingale, even a dance can come with a price...

The rumor went through the Nightingale like a flood, quietly rising, whispers hovering on lips in pockets of silence.

Life as a working-class girl in Prohibition-era New York isn't safe or easy. But Vivian Kelly has a new job at the Nightingale, an underground speakeasy where the jazz is hot and the employees look out for each other in a world that doesn't care about them. Things are finally looking up for her and her sister Florence... until the night Vivian learns that her friend Bea's uncle, a bouncer at the Nightingale, has died.

His death is ruled a suicide, but Bea isn't so convinced. She knew her uncle was keeping a secret: a payoff from a mob boss that was going to take him out of the tenements and into a better life. Now, the money is missing.

Though her better judgment tells her to stay out of it, Vivian agrees to help Bea find the truth about her uncle's death. But they uncover more than they expected when rumors surface of a mysterious letter writer, blackmailing Vivian's poorest neighbors for their most valuable possessions, threatening poison if they don't comply.

Death is always a heartbeat away in Jazz Age New York, where mob bosses rule the back alleys and cops take bootleggers' hush money. But whoever is targeting Vivian's poor and unprotected neighbors is playing a different game. With the Nightingale's dangerously lovely owner, Honor, worried for her employees' safety and Bea determined to discover who is responsible for her uncle's death, Vivian once again finds herself digging through a dead man's past in hopes of stopping a killer.
About the Author
---
KATHARINE SCHELLMAN is a former actor and one-time political consultant. When not writing about mystery, history, and other improbable things, she can be found in her garden or finding new ways to skip steps while baking. She currently lives and writes in the mountains of Virginia in the company of her family and the many houseplants she keeps accidentally murdering. Her books include Last Call at the Nightingale and The Last Drop of Hemlock.
Praise For…
---
"Vivid . . . A brisk and bubbly period whodunit with a pair of indomitable heroines." —Kirkus Reviews

"The sequel to Last Call at the Nightingale is a riveting historical mystery set in New York City's demimonde." —Library Journal

"Schellman's real strength is the rich sense of time and place she creates." —St. Louis Post-Dispatch

"A perfect summer read." —Red Carpet Crash

"Some intriguing developments have me ready and eager for the next installment in the series." —Dear Reader

"This entertaining book moves along swiftly to its conclusion." —Deadly Pleasures

Praise for Last Call at the Nightingale:

A Library Journal "Best Crime Fiction of 2022"
A Publishers Weekly Mystery/Thriller Summer Reads 2022 Pick
One of Goodreads' 2022 "Spring's Most Anticipated New Mysteries"
One of BookPage's "Four Best June Mysteries"
A Bustle "Most Anticipated Book of June 2022"
A Virginia Living "Notable Spring Book"
A GO Magazine "Slide Into Spring and Summer with these Fabulously Gay Reads"

"Fizzy . . . Vivian is a terrific character, plucky and resourceful, determined to choreograph a different life for herself."—New York Times Book Review

"Excellent . . . Vivian proves to be a most imaginative sleuth. Readers will eagerly await her return."—Publishers Weekly (Starred)

"The well-developed supporting cast is diverse in race gender, and sexuality, and the suspense will keep readers guessing until the end."—BookPage (Starred)

"A compelling, atmospheric series debut. Schellman expertly creates a strong sense of pace, introducing a nightclub as a world where people of different races, classes, and sexual orientations can come together."—Library Journal

"A Jazz Age murder thrusts a good-time girl into the uncomfortable role of secret shamus . . . A colorful period crime yarn with a heroine with rooting for."—Kirkus Reviews

"Readers will love Last Call at the Nightingale for its twisting plot, its flair for historical detail and its inclusive cast of appealing characters. Don't look away, as the surprises keep coming until the final page."—Shelf Awareness

"One of the pleasures of Last Call at the Nightingale is how the city thrusts the characters together, across the socioeconomic spectrum and racial and ethnic divides . . . the Nightingale is a world unto itself."—BookTrib

"[Schellman] touches on issues of segregation, poverty, and class divides with a deft hand that leaves plenty of room for a very satisfying murder mystery with a great deal of heart."—Mystery & Suspense

"This debut from Katharine Schellman is as thrilling as it gets. For any fans of mystery looking for a new spin on a beloved genre, here's your next great summer read."—BuzzFeed Books

"As with the Nightingale club, the mystery plot crosses lines of class, gender, and ethnicity. This novel plays with our expectations and keeps our attention on every fast-moving page. Highly recommended."—Historical Novels Review

"Schellman has thoroughly researched the people and the mores of the period, and skillfully uses characters of different sexes and races that the reader slowly determines. Subtle, blatant, the book begs the question: 'When's the next one?'"—Lavender Magazine

"Last Call at the Nightingale is a sexy, fun romp through the Jazz Age. With a well-plotted mystery and applause-worthy female characters, readers will soak up this spellbinding read."—Michelle Gable, New York Times bestselling author of A Paris Apartment and The Bookseller's Secret

"This sharply paced, queer murder mystery, set in 1920s New York City, offers equal amounts of atmosphere, danger, and crime-solving. Schellman is at the top of her craft and delivers a murder mystery with clever twists and turns and memorable personalities."—Denny S. Bryce, Bestselling Author of Wild Women and the Blues

"Complete with speakeasies, mobsters, and an unflappable flapper as its heroine, this is a book that should be savored with a glass of bootleg gin in one hand and a 78 of Louis Armstrong and His Hot Five on the gramophone."—Allison Montclair, author of The Right Sort of Man

"Brimming with Jazz Age atmosphere, suspense, and a cast of engaging characters. Vivian is smart and gutsy, a character you'll root for. I'm already looking forward to her next adventure!"—Ashley Weaver, author of the Amory Ames and Electra McDonnell series

"Original, bold, and sexy. This delicious mystery takes you to the Nightingale, a club where people can be who they really are, but everyone has secrets. Dirty doings among New York's elite, family drama, and more than one love story make for a fantastic start to a great new series."—Mariah Fredericks, author of the Jane Prescott series