The Blue Diamond: A Daughter of Sherlock Holmes Mystery (The Daughter of Sherlock Holmes Mysteries #6) (Paperback)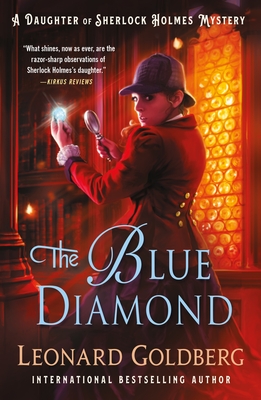 $18.00

NOT ON OUR SHELVES- available for order, usually ships in 1-5 days
Other Books in Series
This is book number 6 in the The Daughter of Sherlock Holmes Mysteries series.
Description
---
The fate of the allied forces lies in the hands of Joanna and the Watsons in the next Daughter of Sherlock Holmes mystery from USA Today bestselling author Leonard Goldberg.

During a critical stage in World War One, the Governor-General of South Africa journeys to London for a meeting of The Imperial War Conference. Days prior to the conference, the Governor-General is scheduled to have an audience at Buckingham Palace at which time a most precious blue diamond will be presented to King Edward as a symbolic gesture of the colonies' resolute and never-ending allegiance to England.

The flawless blue diamond, with its magnificent luster, weighs nearly 3000 carats which renders it one of the world's largest and most valuable gems. On the Governor-General's arrival, he is ensconced at the fashionable Windsor Hotel under the tightest security, with his entire entourage and formidable security team occupying the entire penthouse floor. All entrances and exits are locked down and closely guarded, and no one is allowed entrance after 6 PM.

Despite the extreme precautions, the famous diamond is stolen from the Governor-General's suite in the middle of the night, with no clues left behind. With Scotland Yard baffled, Joanna and the Watsons are called in to investigate the theft and it becomes clear that the crime is not simply the work of a master thief, but one that could greatly aid the Germans and turn the tide of war in their favor. Time is of the essence and the blue diamond must be recovered before it begins its travels which could cause irreparable damage to the allied war plans.
About the Author
---
Leonard Goldberg is the USA Today bestselling author of the Joanna Blalock medical thrillers. His novels have been translated into a dozen languages and were selections of the Book of the Month Club, French and Czech book clubs, and The Mystery Guild. They were featured as People's "Page-Turner of the Week" and at the International Book Fair. After a long career affiliated with the UCLA Medical Center as a Clinical Professor of Medicine, he now lives on an island off the coast of Charleston, SC.
Praise For…
---
Praise for The Blue Diamond:

"What shines, now as ever, is the razor-sharp observations of Sherlock Holmes' daughter and the shrewdly logical inferences she draws from them time and again. Detection triumphs over crime in every possible way." —Kirkus Reviews

"Indeed, Goldberg's novel is a testament to the power of deductive reasoning, the scientific method and cool-headed logic to win the day against otherwise insurmountable odds. The narrative is largely dialogue driven, and six novels into this series, Goldberg brings his characters vibrantly to life through their distractive voices and the banter which conveys their love for one another as a family and their mutual respect as professional colleagues."—The Post and Courier

"With The Blue Diamond, author Goldberg amply demonstrates once again just how compelling a figure Joanna Holmes has become. While her status as the offspring of Sherlock Holmes opens doors for her in a time when that wasn't always the case for women, it is her own great intellect that helps her carve her own path." —Mystery Scene

"...[an] exciting thriller." - The National Examiner

"Joanna is much like her late father, picking up even the faintest clues instantly and plotting complex strategies to foil evil-doers...The author has remained close to the style and themes of the Sherlock Holmes mysteries...complex and full of unexpected twists." —Historical Novel Society

"Readers will enjoy the many references to Sherlock Holmes's cases...also a pleasure is the relationship between Joanna and John, she a wily sleuth and he an adoring supporter of her eccentricities. For fans of the great detective, of course, but also those who enjoy tales of wartime espionage." —First Clue newsletter

Praise for the Daughter of Sherlock Holmes Series:

"Compelling, with clever revelations and pithy dialogue—a worthy successor to Conan Doyle's original" —Charleston Post and Courier

"Goldberg's Sherlock Holmes pastiche is pitch-perfect..." —Library Journal

"Avid Sherlockians will be delighted with the many echoes of the original Holmes canon." —Publishers Weekly

"Fans of the original mysteries will get a chuckle out of the antic language, and there is a mercurial Mary Poppins appeal to this not-to-be-trifled-with heroine that will appeal to fans beyond Baker Street." —Booklist

"Holmes lovers will enjoy the intricate Sherlockian reasoning Joanna and Johnny bring to the puzzle." —Publishers Weekly on The Art of Deception

"Fans of all things Sherlock-ian will delight in Joanna, so like her father and already training her schoolboy son, Johnny, in the methods that have solved so many cases like this exceptionally tricky one." —Kirkus Reviews on The Disappearance of Alistair Ainsworth

"Suspenseful and entertaining, with many twists and turns....This is one of the best Sherlock Holmes series since Laurie R. King's Mary Russell books." —Historical Novel Society