Something in the Heir: A Novel (Mass Market)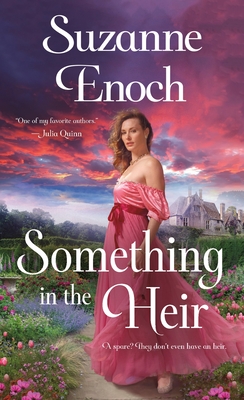 Description
---
One of Publishers Weekly's Top 10 Romances of the Fall!

New York Times bestseller, Suzanne Enoch takes a delightful new path in her joyful historical romantic comedy, Something in the Heir.

Smart, capable heiress Emmeline Pershing will do anything to keep her beloved home; and all it takes is an arranged marriage and a teeny white lie to fulfill her family's silly inheritance rules. But now her little fib means that she and her completely unsuspecting husband are going to inherit big — and very messy! —trouble.

Emmeline and William Pershing have enjoyed a perfectly convenient marriage for eight years. They've settled into separate, well-ordered lives beneath the same roof, and are content to stay that way—or so Emmeline thinks. If William secretly longs for a bit more from the woman he adores, he's managed to be content with her supreme skills as a hostess and planner, which has helped him advance his career; while Emme has been able to keep her beloved childhood home.

Then when Emmeline's grandfather, the reclusive Duke of Welshire, summons them both for his birthday celebration and demands they bring their angelic little children, William is stunned to discover that his very proper wife invented not one, but two heirs to fulfill the agreement for living at Winnover. But surely if Emmeline and William team up and borrow two cherubs to call their own, what could go wrong? Enter George, age 8, and Rose, 5—the two most unruly orphans in Britain.

As the insanity unfolds, their careful, predictable relationship takes some surprisingly intimate turns as well. Perhaps it takes a touch of madness to create the perfect happily ever after.
About the Author
---
A native and current resident of Southern California, Suzanne Enoch loves movies almost as much as she loves books, with a particular soft spot for anything Star Wars. She has written more than 50 books, including Regency romances, historical romances, and contemporary romantic suspense. She shares a home with various humans, tropical fish, a dog (Tiki), a tortoise (Lucky Jo), five lizards, six finches, and a parakeet named Fozzie.
Praise For…
---
"An engaging, uplifting read. Treat yourself to a delightful, effervescent romantic comedy, featuring appealing characters in a novel plot strewn with unexpected twists." —Stephanie Laurens, #1 New York Times bestselling Author

"Grab a cup of hot tea and a delicious scone because Suzanne Enoch has written a sparkling, fresh new book. SOMETHING IN THE HEIR will delight fans of both Julia Quinn and Jane Austen with its witty banter, rich family dynamics and scintillating humor. This book is going straight to my keeper shelf!" --Karen Hawkins, New York Times bestselling Author of The Book Charmer

"Sure to win hearts." - Publishers Weekly

"Will appeal to readers who are looking for a [...] romance." - School Library Journal

"With this captivating mixture of romance and suspense, Enoch sends the series out on a high note." – Publishers Weekly on Hit Me with Your Best Scot

"High stakes, spirited characters, and off-the-charts chemistry keep the pages turning as Enoch balances humor, heat, and tension. This is Highland romance done right." - Publishers Weekly starred review on Scot Under the Covers

"Enoch delivers another fresh and fun Highlander/English romance with notes of scandal, secrets, cunning escapades and off-the-charts chemistry." - Booklist starred review on Scot Under the Covers

"[An] enticing, enchanting ride." - The New York Times on Scot Under the Covers