Love Off the Leash (Mass Market Paperbound)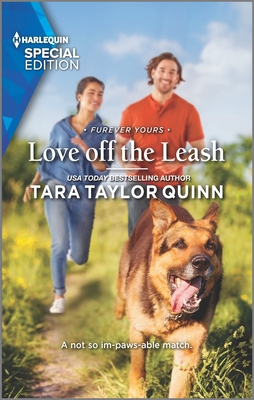 $5.99
Backordered or Out of Print
Description
---
A not so im-paws-able match forms in USA TODAY bestselling author Tara Taylor Quinn's contribution to the Furever Yours continuity Service dog Jedi is playing...cupid As a malnourished rescue dog, I never dreamed Wendy Alvarez would pull me for her Pets for Vets program. Turns out I'm the perfect support animal for ex-vet Greg Martin. Though he insists he's only my "foster," I'm gonna chase Greg's nightmares away and give him the courage to fly his plane again. Plus get him to fall for that nice lady, Wendy. Those loners may be my trainers, but I'm pulling their heartstrings. From Harlequin Special Edition: Believe in love. Overcome obstacles. Find happiness. Furever Yours Book 1: A New Leash on Love by Melissa Senate
Book 2: How to Rescue a Family by Teri Wilson
Book 3: Not Just the Girl Next Door by Stacy Connelly
Book 4: The Nanny Clause by Karen Rose Smith
Book 5: The City Girl's Homecoming by Kathy Douglass
Book 6: It Started with a Pregnancy by Christy Jeffries
Book 7: Home is Where the Hound Is by Melissa Senate
Book 8: More Than a Temporary Family by Marie Ferrarella
Book 9: The Bookshop Rescue by Rochelle Alers
Book 10: Love off the Leash by Tara Taylor Quinn
Book 11: A Double Dose of Happiness by Teri Wilson
Book 12: It Started with a Puppy by Christy Jeffries.