Operational Updates
Click HERE for the most updated hours, customer guidelines and updates to store policy.
Best Laid Plans: An LGBTQ Romance (Paperback)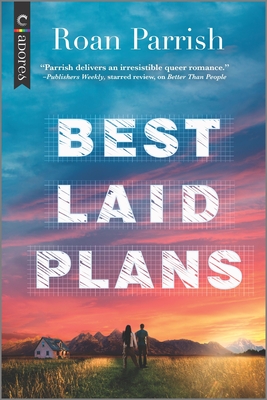 $14.99
NOT ON OUR SHELVES- available for order, usually ships in 1-5 days
Description
---
"This love story is heartrending, swoon-worthy, and extremely well-told." -- Publishers Weekly, starred review

A man who's been moving his whole life finally finds a reason to stay put.

Charlie Matheson has spent his life taking care of things. When his parents died two days before his eighteenth birthday, he took care of his younger brother, even though that meant putting his own dreams on hold. He took care of his father's hardware store, building it into something known several towns over. He took care of the cat he found in the woods...so now he has a cat.

When a stranger with epic tattoos and a glare to match starts coming into Matheson's Hardware, buying things seemingly at random and lugging them off in a car so beat-up Charlie feels bad for it, his instinct is to help. When the man comes in for the fifth time in a week, Charlie can't resist intervening.

Rye Janssen has spent his life breaking things. Promises. His parents' hearts. Leases. He isn't used to people wanting to put things back together--not the crumbling house he just inherited, not his future and certainly not him. But the longer he stays in Garnet Run, the more he can see himself belonging there. And the more time he spends with Charlie, the more he can see himself falling asleep in Charlie's arms...and waking up in them.

Is this what it feels like to have a home--and someone to share it with?

Garnet Run
Book 1: Better Than People
Book 2: Best Laid Plans


Carina Adores is home to modern, romantic love stories where LGBTQ+ characters find their happily-ever-afters.

A new Carina Adores title is available each month:

The Hideaway Inn by Philip William Stover
The Girl Next Door by Chelsea M. Cameron
Just Like That by Cole McCade
Hairpin Curves by Elia Winters
Better Than People by Roan Parrish
The Love Study by Kris Ripper
The Secret Ingredient by KD Fisher
Just Like This by Cole McCade
Teddy Spenser Isn't Looking for Love by Kim Fielding
The Beautiful Things Shoppe by Philip William Stover
Best Laid Plans by Roan Parrish
Knit, Purl, a Baby and a Girl by Hettie Bell
The Hate Project by Kris Ripper
Hard Sell by Hudson Lin
For the Love of April French by Penny Aimes
Sailor Proof by Annabeth Albert
Meet Me in Madrid by Verity Lowell
The Life Revamp by Kris Ripper
If You Love Something by Jayce Ellis.