Operational Updates
Click HERE for the most updated hours, customer guidelines and updates to store policy.
The Poetry of Secrets (Hardcover)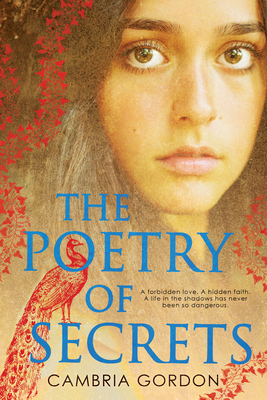 $18.99

Likely On Our Shelves Now
"This historical romance is a fast-paced, plot-driven tale with feminist main characters whom readers will root for from the very beginning ... A charming Jewish love story set against the bleak backdrop of the Spanish Inquisition." – KIRKUS REVIEWS
"Absorbing ... Intricate plot developments keep the story moving swiftly as Isabel and Diego's blossoming romance brings about brutal consequences; Isabel's strength in the face of horrific events—as well as her passion for Diego and her deep love of family, poetry, and faith—makes her an inspiring role model. Supported by extensive back material, the book movingly explores this history of religious intolerance." – PUBLISHERS WEEKLY
"An ambitious epic of the Spanish Inquisition seen through the eyes of a rebellious young woman whose Jewish family faces persecution and death." – SCHOOL LIBRARY JOURNAL
"Gordon adeptly weaves all of this intrigue, danger, and secret history into an eloquent, romantic story, also offering historical and cultural references that will inform readers of the real-life events that inspired the plot. Isabel's fight to pursue the people and passions she loves will speak to adolescent readers as the stakes grow ever higher and the Inquisition and its deathly promise come ever closer to Trujillo." – BOOKLIST
Description
---
Perfect for fans of Ruta Sepetys and Elizabeth Wein, this lyrical portrait of hidden identities and forbidden love is set against the harrowing backdrop of the Spanish Inquisition.
Isabel Perez carries secrets with her every day.
As a young woman in 1481, Trujillo, Spain, she should be overjoyed that the alguacil of the city wants to marry her, especially since she and her family are conversos -- Jews forced to convert to Catholicism -- leaving them low in the hierarchy of the new Spanish order. Yet she longs to pursue an independent life filled with poetry and a partner of her own choosing: Diego Altamirano, a young nobleman whose family would never let him court someone with tainted blood like hers.
But Isabel's biggest secret is this: Though the Perezes claim to be New Christians, they still practice Judaism in the refuge of their own home. When the Spanish Inquisition reaches her small town determined to punish such judaizers, Isabel finds herself in more danger than she could ever have imagined. Amid the threat of discovery, she and Diego will have to fight for their lives in a quest to truly be free.
A timeless love story about identity, religious intolerance, and female empowerment, The Poetry of Secrets will sweep readers away with its lush lyricism and themes that continue to resonate today.
About the Author
---
Cambria Gordon is the coauthor of the award-winning The Down-to-Earth Guide to Global Warming, winner of the National Green Earth Book Award. She has written for Los Angeles Times Magazine, Boys' Life, Parent Guide News, and The Jewish Journal of Los Angeles. She lives in LA with her husband and youngest son, and as close as possible to her two adult children, without annoying them.
Praise For…
---
Praise for The Poetry of Secrets:
"An epic, poetic journey. Brimming with romance and historical detail." -- Ruta Sepetys, New York Times Bestselling Author of Salt to the Sea
Praise for The Down-to-Earth Guide to Global Warming (cowritten with Laurie David):
A Kirkus Best Book of 2007
A San Francisco Chronicle Best Book of 2007 (Children's Nonfiction)
A Rocky Mountain News Best Children's Book of 2007
Green Earth Book Award Winner (Nonfiction Category)
A CCBC Choices Selection 2008
2008 Santa Monica Public Library Green Prize for Sustainable Literature
2009 California Readers Collection
* "A humorous tone, eye-catching graphics and celebrity connections lend pizzazz to this volume, but there is plenty of substance, too." -- Kirkus Reviews, starred review
* "Dynamic layouts and abundant illustrations and photos enliven the passionate words . . . This engaging and accessible guide, ideal as a gift or book-club option, inspires commitment to the planet." -- Publishers Weekly, starred review
"I've never seen such a comprehensive explanation of the [global warming] phenomenon in so few words." -- The New York Times Book Review
"Brings knotty matters down to manageable scope for youngsters ages 8 and up." -- Metropolitan Home Magazine
"It's easy being green with Laurie David and Cambria Gordon's informative book, which helps kids understand what's happening to our environment." -- Parents Magazine
"Funny and full of tips, the book informs -- and empowers -- kids and adults alike." -- Family Circle
Praise for The Down-to-Earth Guide to Global Warming (cowritten with Laurie David):
A Kirkus Best Book of 2007
A San Francisco Chronicle Best Book of 2007 (Children's Nonfiction)
A Rocky Mountain News Best Children's Book of 2007
Green Earth Book Award Winner (Nonfiction Category)
A CCBC Choices Selection 2008
2008 Santa Monica Public Library Green Prize for Sustainable Literature
2009 California Readers Collection
* "A humorous tone, eye-catching graphics and celebrity connections lend pizzazz to this volume, but there is plenty of substance, too." -- Kirkus Reviews, starred review
* "Dynamic layouts and abundant illustrations and photos enliven the passionate words . . . This engaging and accessible guide, ideal as a gift or book-club option, inspires commitment to the planet." -- Publishers Weekly, starred review
"I've never seen such a comprehensive explanation of the [global warming] phenomenon in so few words." -- The New York Times Book Review
"Brings knotty matters down to manageable scope for youngsters ages 8 and up." -- Metropolitan Home Magazine
"It's easy being green with Laurie David and Cambria Gordon's informative book, which helps kids understand what's happening to our environment." -- Parents Magazine
"Funny and full of tips, the book informs -- and empowers -- kids and adults alike." -- Family Circle