The Darkest Minds (Movie Tie-In Edition) (A Darkest Minds Novel) (Paperback)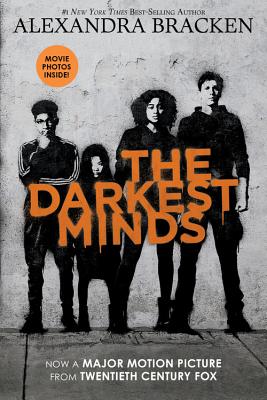 $10.99
Usually Ships in 1-5 Days
Description
---
Book one in the blockbuster Darkest Minds series-now with key art from the major motion picture that's hitting theaters August 2018!
When Ruby woke up on her tenth birthday, something about her had changed. Something alarming enough to make her parents lock her in the garage and call the police. Something that got her sent to Thurmond, a brutal government "rehabilitation camp." She might have survived the mysterious disease that killed most of America's children, but she and the others emerged with something far worse: frightening abilities they cannot control.
Now sixteen, Ruby is one of the dangerous ones.
But when the truth about Ruby's abilities-the truth she's hidden from everyone, even the camp authorities-comes out, Ruby barely escapes Thurmond with her life. On the run, she joins a group of kids who escaped their own camp: Zu, a young girl haunted by her past; Chubs, a standoffish brainiac; and Liam, their fearless leader, who is falling hard for Ruby. But no matter how much she aches for him, Ruby can't risk getting close. Not after what happened to her parents.
While they journey to find the one safe haven left for kids like them-East River-they must evade their determined pursuers, including an organization that will stop at nothing to use Ruby in their fight against the government. But as they get closer to grasping the things they've dreamed of, Ruby will be faced with a terrible choice, one that may mean giving up her only chance at a life worth living.
About the Author
---
Alexandra Bracken is the #1 New York Times bestselling author of The Darkest Minds series and Passenger series. Born and raised in Arizona, she moved east to study history and English at the College of William & Mary in Virginia. After working in publishing for several years, Alex now writes full time and can be found hard at work on her next novel in a charming little home that's perpetually overflowing with books. Visit her online at www.alexandrabracken.com and on Twitter @alexbracken.
Praise For…
---
PRAISE FOR THE DARKEST MINDS SERIES
"Haunting. . . Bracken creates a gripping and terrifying dystopian world."
—
Kirkus ReviewsPRAISE FOR THE DARKEST MINDS SERIES
"The story's quick-paced action leads to a heartbreaking cliffhanger that will have readers eager for the next book."
—
Publishers WeeklyPRAISE FOR THE DARKEST MINDS SERIES
"Bracken's latest maintains constant tension A new twist on dystopia, this is one not to miss."
—
Romantic TimesPRAISE FOR THE DARKEST MINDS SERIES
"Tense, emotional, and brutal."
—
Booklist OnlinePRAISE FOR THE DARKEST MINDS SERIES
"A riveting, emotional read that kept me on the edge!"
—
New York Times
best-selling author Melissa Marr
PRAISE FOR THE DARKEST MINDS SERIES
"Heart-wrenching but completely riveting, the novel pulls no punches."
—
Bulletin of the Center for Children's Books