Operational Updates
Dear Ripped Bodice Community,
We want to make sure we are keeping you updated on how we are handling this crisis. It's been a very challenging time but we are hanging in there.
The shop remains closed to all customers with no events on the calendar.
-Online orders
We are still accepting online orders and have adopted a process to best comply with the evolving guidelines from California and LA County Departments of Health.
This means that Leah is processing all incoming orders and our staff has been instructed to stay at home. Because this is now a one-woman operation, shipping may be slower than normal. We love and appreciate your support in this incredibly difficult time, so we ask that you bear with us as we continue to fill orders. Given the state of the world and The Post Office, we are strongly recommending that you use USPS flat rate shipping at this time to ensure the quickest and most accurate delivery.
-Care packages
We are now accepting new orders for care packages. However, because we are down to a shipping staff of one, we will be accepting orders in batches so as not to overwhelm Leah. Head to this link to enter your email address, and we'll send you the order link once it's your turn.
Questions about orders (or anything) can be directed to hello@therippedbodicela.com
Finally, now is a great time to think about becoming a Patron of the store.
http://patreon.com/TheRippedBodice
There is already a ton of cool content you can check out on our page. Including 12 original short stories from some amazing romance authors. Vlogs and other fun stuff. We know this is not an option for everyone and that's totally okay and understandable. But if you're looking for a way to help, this is a great option.

We hope you are all doing okay and making it through one day at a time.
xoxo, Bea & Leah and Fitz
Ruth Bader Ginsburg: A Life (Hardcover)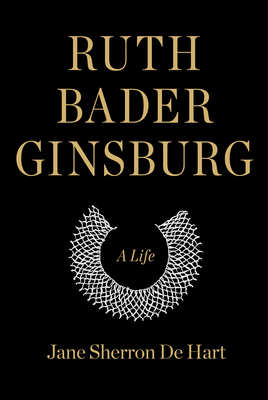 $35.00
Usually Ships in 1-5 Days
Description
---
The first full life—private, public, legal, philosophical—of the 107th Supreme Court Justice, one of the most profound and profoundly transformative legal minds of our time; a book fifteen years in work, written with the cooperation of Ruth Bader Ginsburg herself and based on many interviews with the justice, her husband, her children, her friends, and her associates.

In this large, comprehensive, revelatory biography, Jane De Hart explores the central experiences that crucially shaped Ginsburg's passion for justice, her advocacy for gender equality, her meticulous jurisprudence: her desire to make We the People more united and our union more perfect. At the heart of her story and abiding beliefs—her Jewish background. Tikkun olam, the Hebrew injunction to "repair the world," with its profound meaning for a young girl who grew up during the Holocaust and World War II. We see the influence of her mother, Celia Amster Bader, whose intellect inspired her daughter's feminism, insisting that Ruth become independent, as she witnessed her mother coping with terminal cervical cancer (Celia died the day before Ruth, at seventeen, graduated from high school).
     From Ruth's days as a baton twirler at Brooklyn's James Madison High School, to Cornell University, Harvard and Columbia Law Schools (first in her class), to being a law professor at Rutgers University (one of the few women in the field and fighting pay discrimination), hiding her second pregnancy so as not to risk losing her job; founding the Women's Rights Law Reporter, writing the brief for the first case that persuaded the Supreme Court to strike down a sex-discriminatory state law, then at Columbia (the law school's first tenured female professor); becoming the director of the women's rights project of the ACLU, persuading the Supreme Court in a series of decisions to ban laws that denied women full citizenship status with men.
     Her years on the U.S. Court of Appeals for the District of Columbia Circuit, deciding cases the way she played golf, as she, left-handed, played with right-handed clubs—aiming left, swinging right, hitting down the middle. Her years on the Supreme Court . . . 
     A pioneering life and legal career whose profound mark on American jurisprudence, on American society, on our American character and spirit, will reverberate deep into the twenty-first century and beyond.
About the Author
---
Jane Sherron De Hart is professor emerita of history at the University of California, Santa Barbara. She lives in Santa Barbara, California.
Praise For…
---
The critics welcome Jane Sherron De Hart's RUTH BADER GINSBURG
"An excellent biography ... in its comprehensiveness, range, and attention to detail, this is a vivid account of a remarkable life."
--Jeffrey Rosen, The Washington Post
"The first full biography of Ginsburg ... passionate and thorough ... a major event in scholarship on American law."
--Michael O'Donnell, Washington Monthly
"Magisterial and timely ... engaging ... written in clear language and grounded in historical context."
--Julia M. Klein, Forward
"De Hart succeeds in showing us that the 107th person to be appointed to the Supreme Court is much more than a pop culture icon ... Compelling."
--Jonathan Kirsch, Jewish Journal
"Engaging and admiring."
--Bryan A. Garner, Wall Street Journal
"Scholarly, yet accessible ... rewarding and compelling."
--Joel K. Goldstein, Pittsburgh Post-Gazette
"An in-depth biography of the Supreme Court justice who has become a pop-culture icon."
--USA Today
"Meticulously researched, comprehensive ... Ginsburg's career is skillfully placed within the context of American social and political history ... a sophisticated analysis of the justice's thinking on constitutional change, reproductive rights, gender equality, and affirmative action."
--Marie M. Mullaney, Library Journal
"De Hart reminds us in her new scholarly biography: Ginsburg is a true-blue legal icon ... [the book] draws on extensive research ... readable and rewarding."
--Michelle Olsen, NPR
"RBG has lived a helluva life, and everything--from her days as a baton twirler in Brooklyn to her eventual ascension to the highest court in the land--is chronicled in this expansive history."
--Cristina Arreola, Bustle
"De Hart dynamically devotes more than 500 pages to the amazing life of Supreme Court Justice Ruth Bader Ginsburg ... Telling anecdotes skillfully illuminate Ginsburg's devotion to her family and her wonderfully supportive late husband, her long-standing friendships with an array of public figures, her love of opera, and her humorous wit. This extensively documented account, incorporating more than 100 pages of chapter notes and a bibliography that cites hundreds of resources, is also quite engaging and very easy to read. Expect high demand."
--Kathleen McBroom, Booklist (starred review)
"Laudatory ... De Hart's great strength is her ability to explain Ginsburg's cases and the legal strategies she employed ... an insightful, fascinating, and admiring biography of one of America's most extraordinary jurists."
--Publishers Weekly
"The first comprehensive biography of Ruth Bader Ginsburg . . . De Hart describes in absorbing detail the behind-the-scenes campaign to obtain her appointment to the Supreme Court engineered by her devoted husband Martin Ginsburg . . . De Hart excels in explaining the majority opinions, and later the dissents, in which she participated with remarkable clarity, illuminating the issues, the competing positions, and the significance of each in language easily grasped by readers with no legal training . . . A monumental biography."
--Kirkus (starred review)