Operational Updates
Click HERE for the most updated hours, customer guidelines and updates to store policy.
Stalling for Time: My Life as an FBI Hostage Negotiator (Hardcover)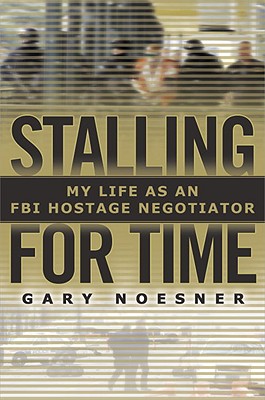 $28.00
Email or call for price
Description
---
The FBI's chief hostage negotiator recounts harrowing standoffs, including the Waco siege with David Koresh and the Branch Davidians, in a memoir that serves as a basis for the upcoming series Waco.

In Stalling for Time, the FBI's chief hostage negotiator takes readers on a harrowing tour through many of the most famous hostage crises in the history of the modern FBI, including the siege at Waco, the Montana Freemen standoff, and the D.C. sniper attacks. Having helped develop the FBI's nonviolent communication techniques for achieving peaceful outcomes in tense situations, Gary Noesner offers a candid, fascinating look back at his years as an innovator in the ranks of the Bureau and a pioneer on the front lines. Whether vividly recounting showdowns with the radical Republic of Texas militia or clashes with colleagues and superiors that expose the internal politics of America's premier law enforcement agency, Stalling for Time crackles with insight and breathtaking suspense. Case by case, minute by minute, it's a behind-the-scenes view of a visionary crime fighter in action.

Praise for Stalling for Time

"Riveting . . . the most in-depth and absorbing section is devoted to the 1993 siege near Waco, Texas."—The Washington Post

"Captivating . . . an electrifying read . . . No Hollywood movie can top this story for thrills, suspense, or action."—New York Journal of Books
 
"Certain to fascinate true crime readers . . . The compelling centerpiece of the book is Noesner's analysis of 'what went wrong at Waco' with the Branch Davidians."—Publishers Weekly
 
"An intense, immersive narrative . . . vicariously entertaining."—Kirkus Reviews
 
"Engrossing . . . The book is also an intimate history of contemporary American militia movements."—New Republic
About the Author
---
Gary Noesner retired from the FBI in 2003 following a thirty-year career as an investigator, instructor, and negotiator. An FBI hostage negotiator for twenty-three years of his career, he spent ten years as the bureau's Chief Negotiator. Following his retirement from the FBI he became a Senior Vice President with Control Risks, an international consultancy. Noesner has appeared on numerous television documentaries produced by A&E, the History Channel, Discovery, TLC, and National Geographic. He is the founder of the National Council of Negotiation Associations, which represents about eighteen organizations and thousands of law enforcement negotiators nationwide. He speaks at law enforcement and corporate events and continues to consult part-time.
Praise For…
---
"Riveting . . . the most in-depth and absorbing section is devoted to the 1993 siege near Waco, Texas."—The Washington Post

"Captivating . . . an electrifying read . . . No Hollywood movie can top this story for thrills, suspense, or action."—New York Journal of Books
 
"Certain to fascinate true crime readers . . . The compelling centerpiece of the book is Noesner's analysis of 'what went wrong at Waco' with the Branch Davidians."—Publishers Weekly
 
"Engrossing . . . The book is also an intimate history of contemporary American militia movements."—New Republic

"Gary Noesner is a gripping storyteller, and man, does the guy have stories. It's like watching an emotional bomb squad defuse explosive personalities. The big surprise is how recently the FBI learned the basic tenets of what makes a man put the gun down, a discovery story as captivating as the hostage standoffs that illuminate it." —Dave Cullen, Author of Columbine 

"Gary Noesner has done something remarkable with this book, turning the murky process of hostage negotiations into a set of predictable and clear routes to bargaining success."—Robert B. Cialdini, bestselling author of Influence: Science and Practice

"Tortured people, desperate moments, dangerous solutions.  Stalling For Time takes us deep into the lethal world of hostages, sieges, and terrorsism. Gary Noesner, a thirty year veteran of the Bureau, has written a landmark work that's both a nail-biting thriller and an expose of timely importance. This is a must-read not only for true crime fans but for every cop and G-Man in the country."—John Huddy, bestselling author of Storming Las Vegas
 
"Stalling for Time reads with the page-turning intensity of a first-rate thriller, only everything here is, remarkably, true. In finally opening up about his craft -- about his 30 years spent reasoning with unreasonable people in situations that were literally life and death -- Gary Noesner has written an essential book about the fine art of communication. For anyone who wants to know how to stay cool under fire, this book is indispensable."—Douglas Stone, best-selling author of Difficult Conversations: How to Discuss What Matters Most

"Gary Noesner has written an account of his decades-long career as a hostage negotiator that is so gripping it grabs the reader by the throat. It's a spectacular read and every word of it is true."—Peter Bergen, author of Holy War, Inc. and The Osama bin Laden I Know

"An intense, immersive narrative, making [Noesner's] real-life experiences read like episodes of a good cop drama . . . vicariously entertaining."—Kirkus Reviews

"The world doesn't need me to tell them that Gary Noesner has been there, and done that.  There are hundreds of living victims across the globe that are living testament to Gary's abilities to successfully negotiate, or teach others effective crisis negotiation."—Lt.  Tom Monahan, Las Vegas Metropolitan Police Dept., Director, Southern Nevada Counter-Terrorism Center