Luthor (DC Black Label Edition) (Paperback)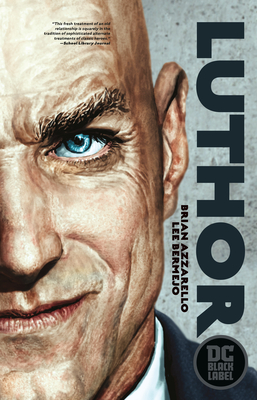 $14.99
Coming Soon - Available for Pre-Order Now
Description
---
Superman has been called many things--the defender of truth, justice and the American way; the Big Blue Boy Scout; and the Man of Steel. In Luthor, Superman is called something he has never been called before: a threat to all humanity.

Brian Azzarello and Lee Bermejo--the superstar, critically acclaimed creative team behind Batman: Damned and Joker--deliver a bold story in which readers get a glimpse into the mind of Superman's longtime foe, revealing why Luthor chooses to be the proverbial thorn in the Man of Steel's side: to save humanity from an untrustworthy alien being.

Luthor's 10th Anniversary is celebrated with this brand new, DC Black Label edition. DC Black Label, a new publishing imprint from DC Entertainment, gives premier talent the opportunity to expand upon the canon of DC's iconic Super Hero comic book characters with unique, standalone stories that are outside of the current DC Universe continuity. An all-star lineup of creative teams will craft their own personal definitive DC stories in the tradition of compelling literary works like Batman: The Killing Joke, All-Star Superman and Kingdom Come.
About the Author
---
Brian Azzarello has been writing comics professionally since the mid-1990s. He is the author of Jonny Double, Batman: Broken City and the Harvey and Eisner award-winning 100 Bullets, all created in collaboration with artist Eduardo Risso. The New York Times best-selling author's other work for DC includes the titles Hellblazer and Loveless (both with Marcelo Frusin), Batman: The Dark Knight: The Master Race (with Frank Miller, Andy Kubert and Klaus Janson), Superman: For Tomorrow (with Jim Lee), Joker and Luthor (both with Lee Bermejo), Sgt. Rock: Between Hell And A Hard Place (with Joe Kubert), Filthy Rich (with Victor Santos) and most recently the all-new ongoing series Wonder Woman (with Cliff Chiang). He also wrote the Richard Corben-illustrated graphic novels Cage and Banner for Marvel Comics.