Operational Updates
Click HERE for the most updated hours, customer guidelines and updates to store policy.
Professional Idiot: A Memoir (Paperback)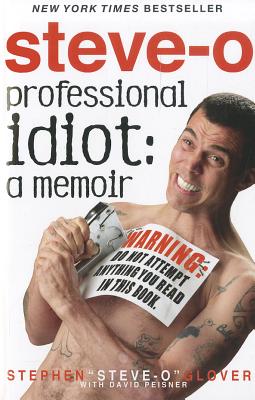 $16.99

NOT ON OUR SHELVES- available for order, usually ships in 1-5 days
Description
---
From his early days videotaping crazy skateboard stunts to starring in the Jackass movies, there was little that Stephen "Steve-O" Glover wouldn't do.Whether it was stapling his nutsack to his leg or diving into a pool full of elephant crap, almost nothing was out of bounds. As the stunts got crazier, his life kept pace. He developed a crippling addiction to drugs and alcohol, and an obsession with his own celebrity that proved nearly as dangerous. Only an intervention and a visit to a psychiatric ward saved his life. Today he has been clean and sober for more than three years.
Professional Idiot recounts the lunacy, the debauchery, the stunts, the drug addiction, and the path to recovery with bravado, humor, and heart.
"It's mind-blowing to me how utterly far gone Steve-O was, and how he looks back on it in this book with such intelligence, humor, and searing honesty. What a truly unbelievable life."-- Johnny Knoxville
"A great book to read before you get on the roller coaster to hell, if you plan on surviving to tell about it like Steve-O did."--Nikki Sixx, author of The Heroin Diaries
"This is the perfect book for people who hate reading."--Tommy Lee, author of Tommyland
The feedback I've gotten on Facebook and Twitter from those of you who've read this book has been fascinating, heartwarming, and hilarious. I'm happy to keep answering your questions on there, and I encourage more of you to join in the discussion. Hope to hear from you soon, and thank you all so much.
Love,Steve-O
About the Author
---
Stephen "Steve-O" Glover has made a career of doing crazy, dangerous, unhealthy, ill-advised stunts for the amusement, delight and occasional disgust of audiences around the world. Besides being one of the breakout stars of Jackass's three-season run on MTV, Steve-O starred alongside fellow Jackass alum Chris Pontius in the extreme travel show, Wildboyz, which ran on MTV for four seasons and his own Dr. Steve-O series on the USA Network. In 2009, the newly sober Steve-O lasted six weeks on the ABC reality series, Dancing with the Stars, despite the fact that he couldn't dance to save his life. He figured prominently in the first two Jackass feature films, both of which debuted at #1 at the box office, and will be a main player again in the third installment, Jackass 3D, which hits theatres in October 2010. He's also been a frequent guest on the Tonight Show with Jay Leno, the Howard Stern Show, Jimmy Kimmel Live, and Loveline. Professional Idiot is his first book.
Praise For…
---
"It's mind-blowing to me how utterly far gone Steve-O was, and how he looks back on it in this book with such intelligence, humor, and searing honesty. What a truly unbelievable life."—Johnny Knoxville

"A great book to read before you get on the roller coaster to hell, if you plan on surviving to tell about it like Steve-O did."—Nikki Sixx, author of The Heroin Diaries

"This is the perfect book for people who hate reading."—Tommy Lee, author of Tommyland