Mr. Darcy's Diary: A Novel (Paperback)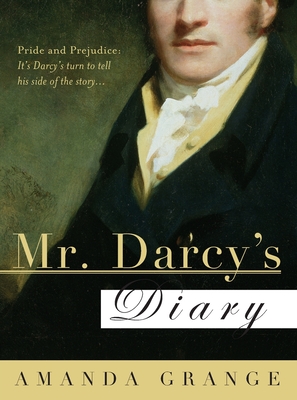 $18.99

NOT ON OUR SHELVES- available for order, usually ships in 1-5 days
Description
---
Monday 9th September
"I left London today and met Bingley at Netherfield Park. I had forgotten what good company he is; always ready to be pleased and always cheerful. After my difficult summer, it is good to be with him again. ..."
The only place Darcy could share his innermost feelings was in the private pages of his diary...
Torn between his sense of duty to his family name and his growing passion for Elizabeth Bennet, all he can do is struggle not to fall in love.
Mr. Darcy's Diary presents the story of the unlikely courtship of Elizabeth Bennet and Fitzwilliam Darcy from Darcy's point of view. This graceful imagining and sequel to Pride and Prejudice explains Darcy's moodiness and the difficulties of his reluctant relationship as he struggles to avoid falling in love with Miss Bennet. Though seemingly stiff and stubborn at times, Darcy's words prove him also to be quite devoted and endearing — qualities that eventually win over Miss Bennet's heart. This continuation of a classic romantic novel is charming and elegant, much like Darcy himself.
Pride and Prejudice has inspired a large number of modern day sequels, the most successful of which focus on the rich, proud Mr. Darcy.
Praise for Mr. Darcy's Diary:
"Absolutely fascinating. Amanda Grange seems to have really got under Darcy's skin and retells the story, in diary form, with great feeling and sensitivity." — Historical Novel Society
"Written with charm, elegance and style, Amanda Grange's excellent retelling of Pride and Prejudice, Mr. Darcy's Diary, will make you fall in love with Fitzwilliam Darcy once again!" — Single Titles
"Mr. Darcy's Diary is an enjoyable journey into the mind of one of the most popular characters in literary history...a gift to a new generation of Darcy fans and a treat for existing fans as well." — Austenblog
About the Author
---
Amanda Grange is a bestselling author of Jane Austen fiction (over 200,000 copies sold). She lives in England. Sharon Lathan is a bestselling author of Jane Austen fiction (over 100,000 copies sold). She resides in Hanford, California. Carolyn Eberhart is a debut author and member of RWA. She lives in Charlottesville, Virginia.
Praise For…
---
"Literature's most eligible bachelor is back! A treat for Pride and Prejudice fans, this tells the story from Mr. Darcy's point of view. Sensitive to the original but lots of fun, this is the tale behind the alpha male." — Woman magazine

"Absolutely fascinating. Amanda Grange seems to have really got under Darcy's skin and retells the story, in diary form, with great feeling and sensitivity." — Historical Novel Society

"Mr. Darcy's Diary is an enjoyable journey into the mind of one of the most popular characters in literary history . . . a gift to a new generation of Darcy fans and a treat for existing fans as well." — www.austenblog.com

"As is proper, Grange doesn't attempt the impossible task of competing with the Divine Jane, but tells Darcy's story in her own style, with charm and a gentle wit. While her characters are true to Austen's creations, a couple of surprises lurk, only adding to the reader's pleasure. . . Fortunately, there are plenty of entirely fresh scenes...in which Grange's own humor and warmth shine, making this an amusing and diverting read for Austen fans.--Susan Higginbotham, author of The Traitor's Wife: A Novel of the Reign of Edward II " — susandhigginbotham.blogspot.com

"I really didn't want this book to end, as Grange's description of events following P&P were excellent." — Revisiting the Moon's Library (revisitingthemoonlibrary.blogspot.com)

" I love this book. It really served to endear Mr. Darcy to me even further." — hopeistheword.wordpress.com

"Any fans of Pride and Prejudice know half of the path that our hero and heroine follow to reach each other, but Grange provides a really intriguing possibility as to what may have been going on in Darcy's head throughout it all. He's not the only one that we get a different perspective of-the personalities of Caroline Bingley, Charles Bingley and Georgiana Darcy are also interesting to see from another's eyes. Mr. Darcy kept much different company from the Bennets, for the most part, so it's almost as though an entirely different story is presented. Much is parallel, but so much is new as well. " — Epinions.com

"Mr. Darcy's Diary is a nice addition for all who enjoy Jane Austen's love stories. " — Arizona Daily Sun