The Greatest Knight: The Unsung Story of the Queen's Champion (William Marshal) (Paperback)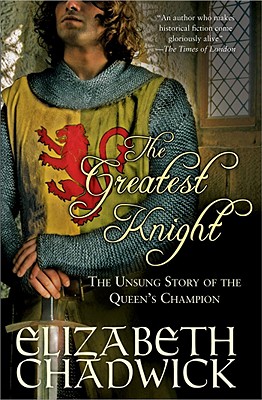 $20.99
Backordered or Out of Print
Description
---
THE NEW YORK TIMES AND USA TODAY BESTSELLER!
"The best writer of medieval fiction currently around."—Historical Novels Review
Royal protector. Loyal servant. Forgotten hero.
12th century, England: A penniless young knight with few prospects, William Marshal is plucked from obscurity when he saves the life of Henry II's formidable queen, Eleanor of Aquitaine. In gratitude, she appoints him tutor to the heir to the throne, the volatile and fickle Prince Henry. But being a royal favorite brings its share of danger and jealousy as well as fame and reward.
A writer of uncommon historical integrity and accuracy, Elizabeth Chadwick resurrects the true story of one of England's greatest forgotten heroes in a captivating blend of fact and fiction. The Greatest Knight restores William Marshal to his rightful place at the pinnacle of the British Middle Ages, reflecting through him the triumphs, scandals, and power struggles that haven't changed in eight hundred years.
Fans of Phillipa Gregory, Susanna Kearsley, or Diana Gabaldon are sure to recognize The Greatest Knight as exceptional historical fiction, bringing medieval Britain to brilliant life.
More Novels of Elizabeth Chadwick's William Marshal:
The Greatest Knight
The Scarlet Lion
For the King's Favor
Templar Silks
To Defy a King
About the Author
---
"A star back in Britain, Elizabeth Chadwick is finally getting the attention she deserves here,"—USA Today. Chadwick is the bestselling author of over 20 historical novels, including The Greatest Knight, The Scarlet Lion, A Place Beyond Courage, Lords of the White Castle, Shadows and Strongholds, The Winter Mantle, and The Falcons of Montabard, four of which have been shortlisted for the Romantic Novelists' Awards.
Praise For…
---
"The author clearly knows her subject matter and stayed true to it. Her skilled use of historical detail helped bring the world alive in my imagination without slowing the pace." — Genre Reviews

"The Greatest Knight is absolutely packed with the senses. Chadwick also is skilled at writing just the perfect amount of description and interspersing it with dialogue" — Bookfoolery and Babble

"What makes The Greatest Knight exceptional is the consistently pitch-perfect way in which its medieval characters think, feel and behave." — HistoricalNovels.info

"I really enjoyed reading the story of a man who tends to be a secondary character but absolutely deserves to have his story told... Everyone who has raved about Elizabeth Chadwick as an author of historical novels is right. " — Devourer of Books

"The Greatest Knight provides the kind of "real life" storytelling of times past for which all historical novels should strive. " — ForeWord

"Chadwick has done an amazing job of portraying the life of William Marshal." — Review From Here

"The Greatest Knight is a must-read for any lover of history and/or the medieval period. Ms. Chadwick's account drags you right in and sets you down on the dusty, dirt roads alongside her hero and his entourage." — The Long and Short of It Reviews

"Luckily for all of us, we have an author like Elizabeth Chadwick to raise [William Marshall] back up out of obscurity and give him a dignified place of honor in history!" — Booklust

"THE GREATEST KNIGHT was amazing... This book seemed to have a little bit of everything -- suspense, deceit, love, wars, scandals." — Booking Mama

" I want to hand it to Elizabeth Chadwick... I found The Greatest Knight a rewarding read" — All About Romance

"Fans of Jean Plaidy, Phillipa Gregory, Sharon Kay Penman will enjoy Elizabeth Chadwick's books. Her historical facts are well researched and her writing draws you into the story. Once you start reading you can't put it down." — Hollywood Today

"This is an impeccably written historical fiction novel. The amount of research Chadwick must have put into it is incredible. " — S. Krishna's Books

"[V]ivid and interesting... " — Historical Tapestry