Rumor Has It: In a town this small, a secret is hard to keep (Paperback)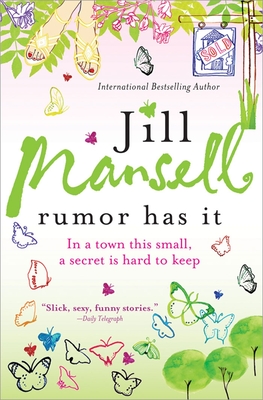 $19.99

NOT ON OUR SHELVES- available for order, usually ships in 1-5 days
Description
---
Would you be tempted?
Newly single, Tilly Cole impulsively accepts a job offer in a small town as a "Girl Friday." Fun job, country house, fresh start, why not? But soon she finds herself in a hotbed of gossip, intrigue, and rampant rivalry for the town's most desirable bachelor—Jack Lucas.
Rumors of Jack's "love 'em and leave 'em" escapes abound, and Tilly decides to do the mature, sensible thing... avoid Jack at all cost. But the more time Tilly spends with Jack, the more the rumors just don't make sense. Tilly doesn't know what to believe... and Jack's not telling.
About the Author
---
With over 10 million copies sold, New York Times and USA Today bestselling author Jill Mansell writes irresistible and funny, poignant and romantic tales for women in the tradition of Marian Keyes, Sophie Kinsella and Jojo Moyes. She lives with her partner and their children in Bristol, England.
Praise For…
---
"The pages flow seamlessly as you find yourself taking a ride with all the glitz, glamour, and secrets of these marvelous characters all with the same goal; to find true love." — Romance Junkies
"Mansell's cheerful tale of modern love." — Booklist
"Delightful characters... The journey to the happy ending is well worth taking." — Shelf Awareness
"A great book that I just didn't want to put down." — Night Owl Romance
"Jill Mansell's sleek and sexy style that won't disappoint!" — Romance Junkies
"An absolutely delightful and refreshing story readers are bound to enjoy... Be sure not to miss this enchanting story. It has everything you could possibly want and more." — The Long and Short of It Reviews
"This is the most hilarious story with that off the wall pure British comedy that will make you chuckle from page one to the end." — Yankee Romance Reviewers
"This book made me feel swept away to the English country side... one of the best chick lit I've read!" — Queen of Happy Endings
"Chick lit fans will devour this book. " — Books, Movies and Chinese Food
"Small-town life is portrayed in all its gossipy yet close-knit glory." — Lady Tess Reads
"Mansell has a breezy writing style that moves the story along. " — Find Your Next Book Here
"Mansell is able to balance the mix of chick lit and heartache -- it's one of the reasons to me that her books really set themselves apart in this genre." — Booking Mama
"I enjoyed her writing style--good characters, humor, romance and a nice job tying all those elements together." — Palmer's Picks for Reaing
"The pace was quick, the dialogue was witty and the action kept me turning the pages almost non-stop." — Pudgy Penguin Perusals
"Move over Shopaholic, Rumor Has It is on the way!" — My Overstuffed Bookshelf
"This book is like chick lit comfort food... pleasant and amusing. " — Luxury Reading
"Crazy misunderstandings abound to make this a funny, laugh out loud read.
Rumor Has It
is a fast paced romantic comedy." —
BookLoons.com
"A complete and unfettered joy... pick this one up. You will not regret it. " —
Books Like Breathing
"If you're at all a fan of Cabot or Kinsella, then I can readily and happily recommend this novel as another fun addition to the genre." —
One Literature Nut
"Delightfully refreshing... a charmingly witty, and all around fun novel." —
Runpinne
"Rich, delicious, and all around filled with goodness... This book has heart, depth, wit and cool British slang." —
A Buckeye Girl Reads
"It's official: I have a literary crush on Jill Mansell...
Rumor Has It
is awesome." —
Write Meg!
"Great dialogue and fantastic characters." —
The Book Binge
"Jill Mansell has written a book that does her genre proud. It's smart, it's funny, and I couldn't put it down" —
The Book Chick
"A good story with comedy, romance, and a bit of drama." —
A Curious Statistical Anomaly
"Brilliant... Mansell perfectly balances the drama and humor to create a fun book that is impossible to put down." —
Diary of an Eccentric
"Ultra dry-witted joie de vivre. " —
Apprentice-Writer
"When you need a relaxing, fun book to help you unwind and have a laugh or two, reach for RUMOR HAS IT. You won't go wrong." —
Thoughts in Progress
"Quirky English village life at its very best, with interesting characters, gossip, and romantic machinations." —
Thoughts From and Evil Overlord
"I adore Jill Mansell... the perfect amount of light fluffiness mixed with a perfect dry wit to make her novels the perfect confection. " —
Bellas Novellas
"
Rumor Has It
is a light heartfelt read that will have you laughing all the way to the last page." —
I Heart Book Gossip
"Originality, wonderful characters, and delicious humor." —
Between the Pages
"A fantastic, fun read." —
Laura's Reviews
"Quick, witty and always entertaining." —
A Bookworm's World
"Full of great characters who have even greater relationships... so delightful." —
She Read a Book
"Fun and full of life... very humorous. " —
Books and Needlpoint
"Mansell keeps the reader engaged and speculating." — Mrs. Q Book Addict
"Light and funny and fast paced. Perfect for this summer." —
Books with a Cup of Coffee
" I enjoyed the humor, the friendships, the unfolding of the loves stories, each of which drew the characters into a richer sense of life and a fuller sense of love." —
Love Romance Passion
"I am devouring Jill's books... fun and easy reads with some funny aspects thrown in." —
Cindy's Love Of Books
"Never a dull moment and every page was filled with juicy gossip... resembles Sophie Kinsella" —
Steph the Bookworm
"I know I'll be adding more of Jill Mansell's book to my radar for when I need a good, comfort read." —
Bookgirl's Nightstand
"Mansell has a writing style that will make readers stand up and pay attention as well as fall of their chairs in laughter." —
Savvy Verse & Wit
"Mansell comes up with another hilarious madcap and satisfying read!" —
Starting Fresh
"An excellent tall... Both light hearted and serious ." —
Romance Reviews Today