Staying at Daisy's (Paperback)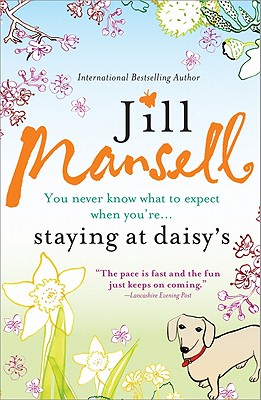 $19.99
Backordered or Out of Print
Description
---
Life is easy, it's men she'll never figure out…
When hotel manager Daisy MacLean meets cocky sports hero Dev Tyzack, it's a no brainer—stay away. He is arrogant and sarcastic—but also incredibly sexy.
Daisy tries her best to steer clear of him, yet soon comes to realize he is the one guest she can't bear to see leave.
Then she learns a devastating truth: most people are not who they seem to be, for better or worse…
From the New York Times and USA Today bestselling author—smart, sassy, savy women's fiction that never disappoints!
"Another jaunty read about life, love, and laughter." —Reading Evening Post
"Engaging, warm, and funny…an entertaining romp." —Liverpool Echo
"There's trouble at Daisy's hotel when she has to deal with a colourful set of wedding guests and her own troubled love life. Sure-fire bestseller from Queen of chicklit, Mansell." —Heat
"A lively, appealing, and sassy comedy of errors about second chances…Romantic storyteller Jill Mansell is in top form."—Nuneaton Evening Telegraph
About the Author
---
With over 10 million copies sold, New York Times and USA Today bestselling author Jill Mansell writes irresistible and funny, poignant and romantic tales for women in the tradition of Marian Keyes, Sophie Kinsella and Jojo Moyes. She lives with her partner and their children in Bristol, England.
Praise For…
---
"One of the best writers of witty women's fiction. " — Savvy Verse & Wit

"Great dialogue, extremely likeable characters all mesh together into a romantic romp that will keep you entertained from cover to cover. " — Minding Spot

"Mansell has written a very satisfying read." — Fresh Fiction

"Fantastic... Mansell is a master. " — Book Addict Patti

"Love Mansell... love her characters, love her plots, love her books." — Bellas Novella

"A fun, delightful read." — Pencil Pushers and Ink Splotches

" If you haven't read a Jill Mansell novel, then don't hesitate, you are guaranteed an entertaining, heart-warming story that makes you laugh, cry and leaves you feeling completely satisfied by the end." — Queen of Happy Endings

"The pages seemed to fly by. There is drama and romance, and the thing I like the most, reality. " — Book Girl of Mur-Y-Castell

"Jill Mansell pulls a reader into the book immediately and keeps us wanting more. She delivers on every page." — The Romance Studio

"Mansell writes great characters, good romances and does not just make it fluffy." — Palmer's Picks for Reading

"If ever one wished for a character to be real, this was the instance. This book was not without it's heart-breaking moments, nor it's share of humor. Recommended!" — Author Kelly Moran's Blog

"Staying at Daisy's will have you laughing, crying and groaning out load... I can't wait to read more by Jill Mansell." — A Buckeye Girl Reads

"Reading a Jill Mansell book is like settling on the back porch with a glass of ice tea, while the flowers bloom and the wind whispers... Readers will laugh out loud, and cheer for the characters who manage to resolve their life issues." — Booksie's Blog

"An entertaining, emotionally satisfying read." — Thoughts From Lady Tess

"Reads like a romantic comedy... Filled with lovable, colorful characters." — Bookloons.com

"Her quirky characters, her witty plot line, and her all around fantastic skills, kept me hooked and smiling until the very end." — Reviews by Molly

"With emotion that just rolls off the pages and a few stories going at once, I really felt like I was part of a bigger picture. " — Seriously Reviewed

"A lovely diversionary read, perfect for fans of the chick lit genre." — A Bookworm's World

"A fun romp with a pile of funny and eccentric characters! " — Peeking Between the Pages

"The dialogue between the characters flows from the page in the witty way that only Jill Mansell can compose." — The Royal Reviews

"Daisy and Dev are wonderful, charming, stubborn people and they are surrounded by a well-written cast of unique characters. 4 Stars" — RT Book Reviews

"Interesting characters with drama-filled lives and intertwining story lines... a novel you won't want to miss. " — The Book Vixen

"A perfect blend of quirky." — The Book Reading Gals

"Mansell has a unique style of writing... a fun, funny, and romantic novel. " — Laura's Reviews

"Love and laughter prevail in this charming chick lit romp... this screwball romantic comedy piles on the humor and humanity for a clever, absorbing, and very enjoyable read. " — Publishers Weekly

"Jill's writing creates characters you care about, and her humor shines through in the characters' quirkiness and personalities. " — Drey's Library

"Mansell has a way of making her characters' flaws endearing... " — Diary of an Eccentric

"Fans of British chicklit are sure to find Staying at Daisy's a delightful and engrossing read!" — Starting Fresh

"Mansell delivers a comic parody of what life is like in the wacky world of soap opera chicklit." — Yankee Romance Reviewers

"This enjoyable read is not to be missed... A lot of humor and terrific characters. " — Pdugy Penguin Perusals

" I felt like I was surrounded by friends that I've known for a lifetime. I loved all of the quirky characters..." — Life in the Thumb

"A light fun read that will keep you hooked for hours. " — Books, Movies and Chinese Food

"Pulls the readers right into an idyllic piece of English country life." — Luxury Reading

"The writing is done with such flair -- zippy dialogue and loads of surprises -- that I'm convinced there's no such thing as a bad book by Jill Mansell. " — Bookfoolery and Babble

"Very steamy, fiery and filled with passion... " — Debbie's Book Bag

"Another book full of charm and wit starring a plethora of interesting characters. " — Book Drunkard