To The Moon and Back (Paperback)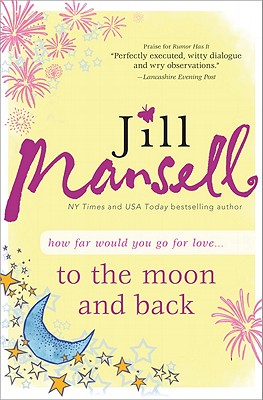 $14.00
Backordered or Out of Print
Description
---
The hardest part of love is moving on…
It's been a year since Ellie Kendall's husband, Jamie, was killed in an accident, but she's still grieving. In fact, she finds herself talking to him regularly.
At the urging of Jamie's successful actor father Tony, Ellie moves to London's glamorous Primrose Hill, where nobody knows her past...
But even in her new home—and with her hardworking new boss, Zack McLaren, and Jamie's best friend Todd to distract her—Ellie can't seem to leave Jamie behind.
Will Ellie let her grief and her past consume her? Or will she realize the man of her dreams is flesh and blood—and right in front of her eyes...
British women's fiction and a great romantic book, To The Moon and Back has a wonderful cast of supporting characters and tender romance.
Fans of Meg Cabot, Sophie Kinsella and Eloisa James will delight in this poignant, funny contemporary romance.
What reviewers are saying about To The Moon and Back:
"a tremendous look at friendship, hope, romance and second chances. An unforgettable, entertaining novel! 4 Stars."
"Exquisitely told... Compelling. The book was IRRESISTABLE."
"A powerful and witty story about fresh starts... To the Moon and Back, to put it simply, is BRILLIANT."
"She's like...Susan Elizabeth Phillips, Jill Barnett, Eloisa James, and Diana Palmer all rolled into one."
"A sweet romantic contemporary about love, loss, and second chances. Mansell's dry wit, comical romantic entanglements, and crazy characters are back in force..."
"Absolutely, positively AN OUTSTANDING STORY". 5 Stars, Reviewer Top Pick
What everyone is saying about the queen of British chick lit, Jill Mansell:
"Fans of chick lit — if you haven't read Mansell yet — what are you waiting for!?"— A Bookworm's World
"Pick this up at your peril: you won't get a thing done till it's finished." — Heat magazine
"A romantic romp full of larger—than—life characters." — Express
"Fast, furious and fabulous fun. To read it is to devour it." — Company
"Expect to run the gamut of emotions, as this book is both laugh—out—loud funny and tear—jerkingly sad. Basically, you won't put it down." — New Woman
About the Author
---
With over 10 million copies sold, New York Times and USA Today bestselling author Jill Mansell writes irresistible and funny, poignant and romantic tales for women in the tradition of Marian Keyes, Sophie Kinsella and Jojo Moyes. She lives with her partner and their children in Bristol, England.
Praise For…
---
"Each and every facet of this wonderful story comes together to offer readers a tremendous look at friendship, hope, romance and second chances. An unforgettable, entertaining novel! 4 Stars" — RT Book Reviews

"Exquisitely told... Compelling. The book was irresistible." — Fresh Fiction

"A powerful and witty story about fresh starts... To the Moon and Back, to put it simply, is brilliant." — Rundpinne

"This is Jill Mansell at her best yet. She's like...Susan Elizabeth Phillips, Jill Barnett, Eloisa James, and Diana Palmer all rolled into one." — Does it Really Matter?

"[Mansell] is in a genre of her own. Sweet and fun." — Book Girl of Mur-y-Castell

"A sweet romantic contemporary about love, loss, and second chances. Mansell's dry wit, comical romantic entanglements, and crazy characters are back in force..." — Smexy Books

"Absolutely, positively an outstanding story. 5 Stars, Reviewer Top Pick" — Night Owl Reviews

"The best author to read in this genre..." — A Buckeye Girl Reads

"I devoured the book in an afternoon... The characters become friends you care about. Funny, romantic, an utter delight!" — Under the Boardwalk

"A master storyteller who creates characters with unique personalities that captivate the reader's imagination and heart." — The Long and Short of It Reviews

"Outstanding! I loved it so much I read it twice, back-to-back, because I just couldn't get enough." — Drey's Library

"This is a book you could easily devour in one sitting. ...a story that will leave your heart warm and wanting to pass on to a friend." — Beck's Book Picks

"My favourite chick lit author... Mansell's writing is always entertaining, filled with lots of humour." — A Bookworm's World

"A joy to read and full of wonderful and quirky characters." — The Book Drunkard

"Mansell's got a wit about her unlike other authors...she's connected to her characters in a way that makes readers feel like they are hanging out with friends." — Savvy Verse & Wit

"The perfect example of "chick lit" with substance, a feel-good book that kept me turning the pages long into the night." — Diary of an Eccentric

"An extremely enjoyable read... Humorous and charming." — Eva's Sanctuary

"A wonderful story with a ton of emotion ripping through the pages." — BookLoons.com

"I don't know how Mansell does it, but she makes me LOVE and CARE about her characters. She has that special gift of drawing her readers into her story and keeping you riveted until the very end." — Life in the Thumb

"I cried, laughed, and ached with these characters." — SOS Aloha

"Comedic and humorous... The characters are witty and lovable. " — Boulder Books Examiner

"Mansell has a wonderful gift for writing interesting, fully developed characters. To the Moon and Back is another fantastic novel by Jill Mansell." — Laura's Reviews

"Mansell crafts a lovely story with multiple plotlines, characters and love interests." — USA Today

"Another winner by...Jill Mansell! Her books never fail to draw me in and keep me entertained..." — Peeking Between the Pages

"Anyone who believes that all chick lit is fluff will be surprised by this. I fell in love not only with Ellie, but with many of the secondary characters...and shed a bit of a tear of joy at the end." — All About Romance