Tall, Dark, and Vampire (Dead in the City) (Mass Market)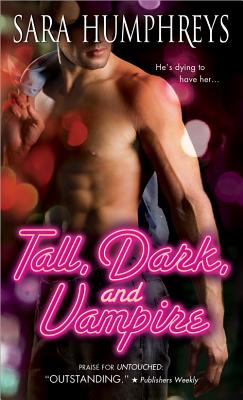 $12.99
Backordered or Out of Print
Description
---
A fun, action-packed "Vamps and the City" type romance with:
A second chance at first love
A tender-hearted vampire who cares about dogs, cats & people
A cop who can't stop dreaming about a woman he's sure he's never met
The last person Olivia expected to turn up at her nightclub was her one true love. It would normally be great to see him, except he's been dead for centuries. Olivia really thought she had moved on with her immortal life, but as soon as she sees Doug Paxton, she knows she'd rather die than lose him again. And that's a real problem…
Doug is a no-nonsense cop by day, but his nights are tormented by dark dreams of a gorgeous redhead who's so much a part of him, she seems to be in his blood. When he meets Olivia face-to-face in the heart of the city of the dead, long-buried memories begin to surface. She might be the answer to his prayers…or she might be the death of him.
Praise for Sara Humphreys's Untamed:"Humphreys's spectacular talent is on full display. She writes scenes with such clarity that you will feel as if you are…witnessing all the action and romance firsthand. This series is getting better which each book."—RT Book Reviews, 4½ stars"The characters are well-developed, the twist and turns of the plot are well-crafted, and the situations are alternately funny, action-packed, and sensual."—Fresh Fiction"An excellent paranormal romance with awesome worldbuilding and strong leads."—The Romance Reviews
About the Author
---
Sara Humphreys is the award-winning author of the Amoveo Legend series. The third book in the series, Untamed, won two PRISM awards: Dark Paranormal and Best of the Best. The first two novels from her Dead in the City series have been nominated for the National Readers Choice Award. Sara was also a professional actress. Some of her television credits include A&E Biography, Guiding Light, Another World, As the World Turns and Rescue Me.
She loves writing hot heroes and heroines with moxie, but above all, Sara adores a satisfying happily-ever-after. She lives in New York with Mr. H., their four amazing sons, and two adorable pups. When she's not writing or hanging out with the men in her life, she can be found working out with Shaun T in her living room or chatting with readers on Facebook. For a full list of Sara's books and reading order, please visit www.sarahumphreys.com
Praise For…
---
"A fabulous start to what is going to be a wonderful series." —
Tea and Book
"I enjoyed the world building Ms. Humphrey creates and her writing style is fresh, flowing and easy to read." —
Rakes, Rogues and Romance
"Engaging... Humphreys skillfully blends intrigue and romance." —
Publishers Weekly
"Shines with fascinating new characters... Readers will not want to wait for more from the very talented Humphreys! 4 ½ Stars, Top Pick of the Month" —
RT Book Reviews
"Readers will find themselves engulfed in the world of vampires and love every minute of it." —
BS Reviews
"An enjoyable beginning to what looks to be a very good series." —
Fresh Fiction
"A well-developed story peppered with rich lore and a timeless romance." —
Rabid Reads
"Mystery, action, intrigue and of course hot love scenes. Tall Dark and Vampire will literally get your blood moving." —
BookLoons.com
"Riveting story. I found Ms. Humphreys writing and characters fresh and exciting." —
Anna's Book Blog
"Full of the humor that you always experience with Humphreys' writing but with a bit of a darker twist, there is love and passion, action and discovery, reunions and changes, Olivia and Doug's story is worth every second." —
Romance Witch's Reviews
"If some fun vampire adventure/romance intrigues you, please pick up
Tall, Dark, and Vampire
." —
That's What I'm Talking About
"A fun action packed and steamy ride." —
Where the Night Kind Roam
"A great mix of paranormal, mystery and humor. Overall the storyline was one that I could sink my "teeth" into and really enjoy." —
BTS Magazine
"Fierce, sexy, and dangerous." —
Book Lovin' Mamas
"Sara has written a story that I simply could not put down. It had heat, adventure, true love, and even a bit of mystery." —
Delphina Reads Too Much
"Vampire politics and legends, like that of blood mates and how true love allows vampires to walk by day, drive this satisfying good-not-evil vampire romance." —
Booklist
"A sexy, exciting read..." —
The Book Girl
"The world building and passion will leave readers breathless..." —
The Romance Reviews
"Strong and likeable characters, creative paranormal worldbuilding, intriguing mystery and passionate romance." —
Delighted Reader
"A sexy, exciting read... the action is non-stop." —
The Book Girl
"
Tall, Dark, and Vampire
is riveting, outstandingly written, and it possess the hearts of the readers. A must read for all vampire lovers and anyone who needs motivation to be stronger than they were before." —
Bitten By Love Reviews
"TALL, DARK and VAMPIRE packs a punch of smexy and mystery that will leave you hooked for more." —
Under the Covers Book Blog
"An enjoyable romance that brings laughter, action and a steamy love story together in one novel. The author's style is easy to read and her voice is light and humorous." — Long and Short Reviews
"Fast-paced and full of action." —
Book Chick City
"The action scenes were well described and really interesting and I liked the way the vampire's legends mix well with the whole story." —
Proserpine Craving Books
"A fun and flirty romance with bite... Sara Humphreys has taken the vampire mythology and truly made it her own." —
Romancing the Dark Side
"Sara Humphreys is a wonderful writer. Her writing brings the characters to life and I felt they were well developed and true to themselves. " —
Booked and Loaded
"An entertaining paranormal romance with likable characters and an action-packed storyline. " —
Book Lover and Procrastinator
"Fun vampire romance with some great characters, a sweet love affair, and just enough action to keep things interesting!" —
Literal Addiction Paranormal Book Club
"The sleuthing is terrific... but it is the second chance at love between two strong individuals that enhances this entertaining thriller." —
Midwest Book Review