Thinking of You (Paperback)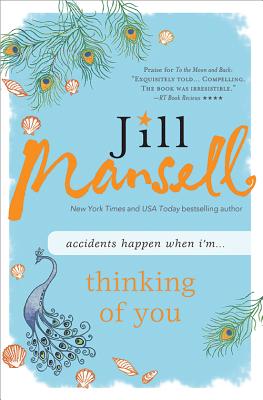 $18.99
Backordered or Out of Print
Description
---
USA Today Bestseller!
Are you in the midst of one of those "exciting" phases of life, like the eerily quiet empty nest...or the new job with the distractingly attractive, off-limits boss...or a wacky new roommate who isn't at all as advertised? What about all of those at once...
Is your life full of surprises? No? Well, what if it could be?
You may begin to think you're living someone else's reality. And maybe, that's not a bad thing...
International bestselling author Jill Mansell spins a poignant and funny story of mothers, daughters, friends, and lovers...and what happens when everything takes a turn for the unexpected.
Praise for A Walk in the Park:
"What a fabulous read...laugh out loud moments, heartwarming and sweet."—Wendy's Minding Spot
"Wonderful characters...Held me captivated."—Long and Short Reviews
"A great read with drama, dry humor, and colorful characters."—RT Book Reviews, 4 Stars
"Mansell excels at the ensemble romantic comedy, and her quirky but endearing characters shine once again."—Booklist
"Charming...Mansell deftly weaves a web of poignant loves stories."—Publishers Weekly
About the Author
---
With over 10 million copies sold, New York Times and USA Today bestselling author Jill Mansell writes irresistible and funny, poignant and romantic tales for women in the tradition of Marian Keyes, Sophie Kinsella and Jojo Moyes. She lives with her partner and their children in Bristol, England.
Praise For…
---
"Humorous, sometimes poignant... Her breezy style resembles that of Sophie Kinsella or Helen Fielding, and this is one reprint (2007) readers will be delighted to rediscover or enjoy for the first time." — Booklist

"Mansell is like a Michelin-rated chef: She may use the same common ingredients, but under her sure hand the results are deliciously superior." — Kirkus Reviews

"Fantastic humorous view of the life of an empty nester. This story grabbed my attention from page one and kept it until the end. Reviewer Top Pick" — Night Owl Reviews

"Jill Mansell has never let me down and she delivers once again with a light and entertaining read that had me laughing and smiling from beginning to end." — Life in the Thumb

"Jill Mansell combines, humor, friendship, romance and betrayal... keeps you wanting more." — Fresh Fiction

"Highly recommended, especially for escapist, beachy-type romantic reading." — Bookfoolery

"Will touch your heart, make you laugh, and even make you cry..." — Charlotte's Web of Books

"An enjoyable read from first page to last... All the characters are so wonderful." — Long and Short Reviews

"Jill Mansell writes in a way that makes you want to pack your bags and move to England. " — Romancing the Book

"It's a feel-good book, but then it's a Mansell book and I would have been surprised if it had not ended with a smile on my face." — Book Girl of Mur-Y-Castell

"Genuine, funny, and touching." — Bibliophilic Book Blog

"I love how Mansell's heroines are endearingly flawed women to whom I can relate in some way... In Thinking of You, she has created a sweet tale about the bonds between mothers and daughters and the power of female friendships." — Diary of an Eccentric

"Beyond the fun, faulted characters, Mansell has a gift for humorous and witty dialogue that will leave readers in stitches... Mansell excels at creating relationships that are dynamic and complicated." — Savvy Verse and Wit

"Jill Mansell wrote another winner with Thinking of You and I highly recommend it. It is a perfect "beach read." — Laura's Reviews

"Mansell never fails to deliver." — A Bookworm's World

"Humor, entertainment and a satisfying story." — Under the Boardwalk