What the Groom Wants (Mass Market Paperbound)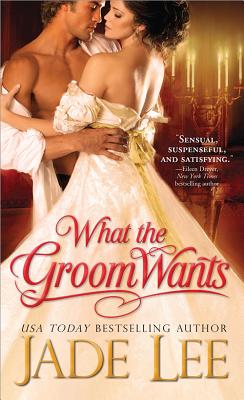 Description
---
"This book has it all: suspense, humor, sexy love scenes, and enough sweet words to make a girl swoon."-Romantic Romp
Seamstress Wendy Drew knows she deserves better than the darkly seductive ways of the nefarious Demon Damon. Fortunately, Radley Lyncott is on hand to show her what she does deserve: a man who loves her like no other.
Radley Lyncott has been in love with Wendy Drew as long as he can remember. When he went to sea, she was too young to court. Now that he's returned to take up his Welsh title, he is appalled to find that debt has ruined the Drew family, and--even worse--Wendy is being courted by another man.
Family comes first for seamstress Wendy Drew, who is forced to settle her brother's debt by working nights at a notorious gambling den. But her double-life hasn't gone unnoticed--she has captivated none other than Demon Damon, a nefarious rake who understands Wendy's darkest desires and is hell bent on luring her into his arms.
Praise for Wedded in Scandal:
"An erotic tale full of emotion.... Jade Lee is an exceptional author, filling her stories with color and excitement." --Fresh Fiction
Praise for What the Bride Wore:
"Passion-filled Regency...Readers will savor the red-hot love scenes." --Publishers Weekly
" Lee's] sexy series will delight readers who relish experiencing a different side of Regency life." --Booklist Online