To Charm a Naughty Countess (Mass Market Paperbound)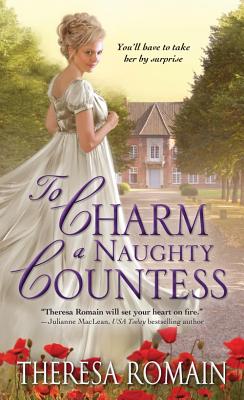 Description
---
"A love story that is not just enchanting, but joyous. 4 1/2 Stars "-
RT Book Reviews
Celebrate the 80th birthday of Regency Romance with great books from Sourcebooks Casablanca
With a painful history between them Michael, the Duke of Wyverne, has no idea why Caroline, Countess of Stratton would agree to help him find a bride. As the most sought-after woman in London society, Caroline has motivations of her own.
Brilliant but rumored mad, Michael Layward, the impoverished Duke of Wyverne, has no success courting heiresses until widowed Lady Stratton takes up his cause-after first refusing his suit.
Caroline Graves, the popular Countess of Statton, sits alone at the pinnacle of London society and has vowed never to remarry. When Michael-her counterpart in an old scandal-returns to town after a long absence, she finds herself as enthralled with him as ever.
As she guides the anxiety-ridden duke through the trials of London society, Caroline realizes that she's lost her heart. But if she gives herself to the only man she's ever loved, she'll lose the hard won independence she prizes above all.
To Charm A Naughty Countess is a poignant and beautifully romantic story that will make you fall in love with historical romance all over again.
Fans of Sabrina Jeffries, Julia Quinn and Stephanie Laurens will enjoy this charming story of a second chance at love.
Matchmaker Trilogy:
It Takes Two to Tangle, Book #1-A witty and passionate Cyrano de Bergerac-style Regency Romance
To Charm a Naughty Countess. Book #2-An enchanting and emotional Regency Romance of scandal and second chances
Secrets of a Scandalous Heiress, Book #3-A captivating and hilarious Regency Romance, a title-less heiress is looking for a lover, but may find more than she bargained for
What readers are saying about
To Charm A Naughty Countess
:
"a love lost in time being given a second chance."
"a set of sublimely crafted characters, magnificently plotted story and an intensely poignant romance set in a Regency England filled with rich historical details"
"Emotional, romantic, and absolutely fantastic"
"a beautifully written and beautifully moving love story"
"Fast paced tale of love, scandal and romance"
What reviewers are saying about
To Charm A Naughty Countess
: "A love story that is
not just enchanting, but joyous
."-RT Book Reviews
"So charming and endearing...I dropped the other books I was reading as soon as I started this one."-Sonya's Stuff
"Utterly charming plot and sprightly dialogue... The intelligence of the writing, coupled with well-drawn and appealing characters, pulls readers into a love story that is not just enchanting, but joyous. 4 1/2 Stars "-RT Book Reviews
"Amazingly refreshing."-Emma's Miscellaneous Maunderings
What everyone is saying about Theresa Romain:
"Brilliant, passionate historical romance that will capture your heart."?My Book Addiction Reviews, 4 stars
"Utterly adorable...both passionate and just plain fun."?Courtney Milan, New York Times and USA Today bestselling author
"Theresa Romain is definitely an author to watch."-RT Book Reviews
"Theresa Romain writes with a delightfully romantic flair that will set your heart on fire. " Julianne MacLean, USA Today bestselling author