What to Do with a Bad Boy (The McCauley Brothers) (Mass Market)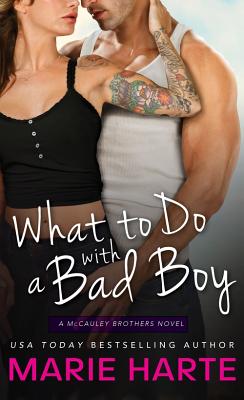 $12.99
Backordered or Out of Print
Description
---
"While the previous books in this series are all amazing...this installment by far has the most heart. ...Done in a way that will stick with readers long after the final page is turned."—RT Book Reviews, 4.5 stars, Top Pick! Gold
WHAT IS WITH MIKE McCAULEY?
Every time Delilah Webster runs into Mike McCauley, he practically bites her head off. The rough-and-tumble contractor clearly has baggage. Del has her own emotional scars and knows she's better off keeping her distance, but Mike's temptation in jeans and a T-shirt and she's always been good with her hands…
There's something about the strong-willed mechanic that sets Mike's motor running—and scares the hell out of him. Mike has loved and lost and will never hurt like that again, even if that means walking away from a woman who makes him feel alive for the first time in years.
When a simple kiss turns hot and heavy, Mike discovers he can't stay away, no matter how certain he is they're destined to crash and burn…
INTRODUCING…THE McCAULEY BROTHERS
Welcome to the rough-and-tumble McCauley family, a tight-knit band of four bachelor brothers who work hard, drink beer, and relentlessly tease each other. When three independent women move in next door, all hell breaks loose.
The McCauley Brothers Series:
The Troublemaker Next Door
How to Handle a Heartbreaker
Ruining Mr. Perfect
What to Do with a Bad Boy
Praise for The McCauley Brothers series:
"Funny, addicting, and full of hot sex scenes, leaving readers eager for the next McCauley novel."—Booklist
"Filled with strong-willed characters. The love scenes…will make readers sweat."—RT Book Reviews, 4.5 stars, Top Pick! Gold
About the Author
---
Caffeine addict, boy referee, and romance aficionado, New York Times and USA Today bestseller Marie Harte is a confessed bibliophile and devotee of action movies. Whether biking around town, hiking, or hanging at the local tea shop, she's constantly plotting to give everyone a happily ever after. Visit marieharte.com and fall in love.
Praise For…
---
"This installment by far has the most heart.... This tale of redemption and letting go of past hurts is familiar but done in a way that will stick with readers long after the final page is turned." — RT Book Reviews, 4 1/2 Stars, GOLD Top Pick

"Smart, sexy and funny – I'd marry this series if I could." — Under the Covers Book Blog

" Marie Harte has characters that will have you eating out of the palm of their hands... well written, charming, engaging and wholly enjoyable." — Crazy Four Books

"Charming, incredibly sexy, heartwarming, playful, emotional, and just plain damn wonderful What To Do With A Bad Boy reminds me why I love the romance genre and this author so much. If you haven't read this series, now is a great time to start and if you have this is the perfect ending to what has been a stellar series. Thank you Marie Harte for once again giving your readers a group of family and friends we can't help but love!" — Guilty Pleasures Book Reviews

"What to do with a Bad Boy took me on a lot of highs and lows. I loved Mike & Del's story. Just loved it. I will say that I did shed a few (or a lot) of tears in this book. If you have not read this series yet you need to and you need to start with book one! Yes you could read each as a stand alone, BUT I think it is important to read from the beginning." — Books-n-Kisses

"[An] original, sexy, fun read." — Heroes & Heartbreakers

"I adore this series. Fans of Belle Andre and Samantha Young will find What to Do With a Bad Boy delightful. Each of the novels in the McCauley Brothers series will work as a standalone, but I recommend taking the full tour." — Caffeinated Book Reviewer

"If you enjoy contemporary stories packed with sass, sensuality and heartwarming emotion, pick up a copy of WHAT TO DO WITH A BAD BOY! It is an absolute delight!" — Romance Junkies

"This was an excellent addition to an incredibly funny series that I wholeheartedly recommend." — The Romance Reviews

"Marie Harte takes aim at your heart and hits a bulls-eye every time." — The Reading Cafe

"Charming, incredibly sexy, heartwarming, playful, emotional, and just plain damn wonderful What To Do With A Bad Boy reminds me why I love the romance genre and this author so much. If you haven't read this series, now is a great time to start and if you have this is the perfect ending to what has been a stellar series. Thank you Marie Harte for once again giving your readers a group of family and friends we can't help but love!" — Guilty Pleasures Book Reviews

"Del and Mike's story is a perfect finish to an entertaining series." — Heroes & Heartbreakers

"A great combination of sizzle and humor...heartwarming." — Night Owl Romance