Her Perfect Mate (X-Ops) (Mass Market)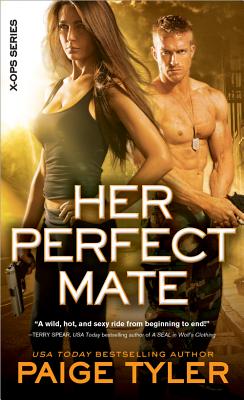 $12.99
Backordered or Out of Print
Other Books in Series
This is book number 1 in the X-Ops series.
Description
---
New York Times and USA Today bestselling author Paige Tyler brings you high-octane paranormal romantic suspense like you've never seen! Hold on tight—the X-Ops series takes you on a wild shifter ride.
I thought I was ready for anything…
As a Special Forces Captain, it takes a lot to rattle me. So I was up for the challenge when I got the call to leave an op in Afghanistan and head stateside. I've heard plenty of stories about "special assignments" and secret divisions, but I wasn't expecting to be called on a mission for a department I'd never even heard of. I don't need to be convinced to take down the bad guys, but my new partner looks like she couldn't hurt a fly. What were they thinking pairing me up with a woman like her? Sure, Ivy Halliwell is beautiful, and sexy…and crazy smart and fierce…and, what was I saying again…?
But he's never met anyone like me…
I've been working with hotheaded military guys for years and there's nothing Landon Donovan can think or say that I haven't heard—and ignored—a hundred times before. He thinks I'm a kitten who needs to be protected? Think again. I'm a female operative and a feline shifter, and that's a combination you can't beat. Landon's just another partner who'll hold me back if I let him, so he can just stay out of my way. But he's definitely sexy, and he's awfully cute when he thinks he has to protect me… Maybe I wouldn't mind seeing whether he can make me purr…
Your favorite authors love Paige Tyler's paranormal shifter romances!
"Intense action, sizzling romance, and bold writing! Paige Tyler's SWAT Series hits all the right marks, blending steamy paranormal fantasy with modern day realism."—Larissa Ione, New York Times bestselling author, for Wolf Hunger
"SWAT is hot hot HOT! Paige Tyler's hunky werewolves will keep you up all night, howling for more!"—Kerrelyn Sparks, New York Times bestselling author, for In the Company of Wolves
"A wild, hot, and sexy ride. I loved it!"—Terry Spear, USA Today bestselling author, for Her Perfect Mate
"Sexy, smart and suspenseful—Paige Tyler just keeps getting better!"—HelenKay Dimon, award-winning author, for Her Fierce Warrior
"Hot and wild…Paige Tyler delivers non-stop action and thrilling romance."—Cynthia Eden, New York Times and USA Today bestselling author, for Her Wild Hero
About the Author
---
Paige Tyler is the New York Times and USA Today bestselling author of sexy, romantic fiction, including the X-Ops series, the SEALs of Coronado Series, and the Alaskan Werewolves Series. She and her very own military hero (also known as her husband) live on the beautiful Florida coast with their dog. Visit www.paigetylertheauthor.com.
Praise For…
---
"This is an action-packed, sensual genre-blend of military and paranormal romance with appeal for readers of both. The explicit sex scenes, while limited in number, show the influence of erotica on both subgenres." — Booklist

"A solid story, vivid action scenes, and worthy characters carry the day." — Publishers Weekly

"Tyler presents a lively and inventive plot here, not to mention two leads who work well off each other, particularly in the sizzling attraction department." — Bookloons

"An absolutely perfect story—one I honestly couldn't put down. One of the best books I've read in years. I hope this is the beginning of a very long series, because I definitely want more of Paige Tyler's shifters." — Kate Douglas, author of the bestselling Wolf Tales and Spirit Wild series

"A wild, hot, and sexy ride from beginning to end! I loved it!" — Terry Spear, USA Today bestselling author of A SEAL in Wolf's Clothing

"Loved the new spin on shifters... It's unique and completely plausible. I really can't wait to read more stories in this series. It's sure to be a hit with both military romance lovers and paranormal shifter stories." — Cocktails and Books

"The action roars rapidly and I highly recommend Her Perfect Mate... Worthy of a five star rating." — Night Owl Reviews, 5 stars, Top Pick!

"A must read for anyone that likes a good shifter romance. I will now be eagerly awaiting each new book in the series by Paige Tyler." — I'll Have Another Book

"Ivy and Landon are evenly matched and non-judgmental, which makes the action more intriguing." — RT Book Reviews

"The fascinating debut novel in the new X-Ops series. We enjoyed this wonderful mix of military and paranormal romance with just the right amount of humor thrown in. We eagerly look forward to the next novel to find out more about this world and the characters we have come to love." — That's What I'm Talking About

"Fasten your seat belts! The X-Ops series is going to be a thrilling ride!" — Fresh Fiction

"I love a good paranormal romance and this series has started off with a bang!" — Hopeless in Literature Reviews

"Once I began, the outside world ceased to exist. It's exciting and fast paced." — Paranormal Kiss