The Summer Queen: A Novel of Eleanor of Aquitaine (Paperback)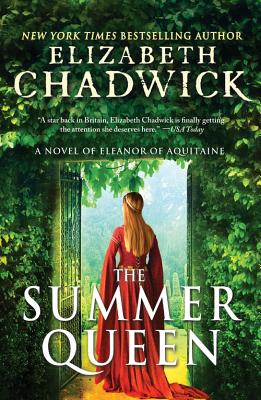 $23.99

NOT ON OUR SHELVES- available for order, usually ships in 1-5 days
Other Books in Series
This is book number 1 in the Eleanor of Aquitaine series.
Description
---
Scandal, politics, sex, triumphs, and tragedies abound in The Summer Queen, the first novel in this stunning trilogy, by New York Times bestselling author Elizabeth Chadwick
Young Eleanor has everything to look forward to as the heiress to the wealthy Aquitaine. But when her beloved father suddenly dies, childhood is over. Sent to Paris and forced to marry Prince Louis VII of France, she barely adjusts before another death catapults them to King and Queen.
The first in the Eleanor of Aquitaine Trilogy, The Summer Queen follows Eleanor through the Second Crusade to the end of her marriage to Louis VII. Faced with great scandals, trials, fraught relationships, and forbidden love at every turn, Eleanor seeks the path that will make her queen of two countries and one of the most powerful women in the world.
Chadwick's meticulous research portrays the Middle Ages and Eleanor with depth and vivid imagery unparalleled in historical fiction that will keep readers riveted and wanting more.
Following the legendary life of Eleanor of Aquitaine, 12th Century Queen of France, and later Queen of England, this trilogy is medieval historical fiction at its most romantic, scandalous, and intriguing.
The Eleanor of Aquitaine Trilogy:
The Summer Queen (Book 1)
The Winter Crown (Book 2)
The Autumn Throne (Book 3)
Praise for The Summer Queen:
"A magnificent woman's story told by a brilliant historical novelist; realistic, emotional, vibrant, exciting and unputdownable."—RT Book Reviews, July Top Pick
"The Summer Queen is a fabulous novel based on the most up-to-date and meticulous research. This is historical fiction at its best and I loved every page of it."—For Winter Nights: A bookish blog
About the Author
---
"A star back in Britain, Elizabeth Chadwick is finally getting the attention she deserves here,"—USA Today. Chadwick is the bestselling author of over 20 historical novels, including The Greatest Knight, The Scarlet Lion, A Place Beyond Courage, Lords of the White Castle, Shadows and Strongholds, The Winter Mantle, and The Falcons of Montabard, four of which have been shortlisted for the Romantic Novelists' Awards.
Praise For…
---
"A magnificent woman's story told by a brilliant historical novelist; realistic, emotional, vibrant, exciting and unputdownable." — RT Book Reviews, July Top Pick

"Chadwick is extremely popular among readers of medieval historical fiction owing to her meticulous research and attention to detail. Fans of her previous novels should enjoy getting a closer look at Eleanor...while newcomers will find this to be a pleasurable introduction to Chadwick's work." — Library Journal

"The Summer Queen is a fabulous novel based on the most up-to-date and meticulous research. This is historical fiction at its best and I loved every page of it." — For Winter Nights: A bookish blog

"Elizabeth Chadwick has once again put forth a wonderfully authentic recreation of the life of a famous historical figure. One cannot help but be spellbound with each page... Awesome characterization, a fascinating plot, and in depth research makes this story stand above all others about Eleanor of Aquitaine. Definitely a book to read and savor! " — Historical Novel Review

"Every little detail is woven in the story seamlessly, giving the reader the impression that they are standing there, just right next to the characters, witnessing history as it unfolded all those centuries ago... Meticulously researched, beautifully written, with an engaging plot and fascinating characters... It is one of the best historical fiction novels I've ever read." — History and Other Thoughts

"A rich and compelling read." — Candis Magazine

"Uses authentic period detail to bring to life a new queen and the drama and intrigue surrounding her" — France Magazine

"Ms. Chadwick did an extensive amount of research for this book and I think it is reflected in the quality of the story." — So Many Books, So Little Time

"Chadwick was really able to bring both the time period and the setting to life through her use of historical detail... a very exciting start to a great series on a fascinating figure!" — A Bookish Affair

"Absolutely fantastic... It has it all, romance, adventure, and intrigue! I give this novel a solid FIVE out of FIVE stars!" — Historical Fiction Obsession

"The story line is engaging and kept me turning the pages to see what would happen. There's romance, scandal, love, treason, fighting, chivalry, deception, prayer, and so much more." — The Readathon

"An immersion in the life of a queen who helped shape the Western world." — Kirkus Reviews

"A richly drawn, finely written, meticulously researched, fictionalized account of Eleanor of Aquitaine - Elizabeth Chadwick's fleshed-out characterization of this controversial and often misunderstood historical figure is loaded with vivid descriptions and a sumptuous scenography that brings the medieval setting to full life at every turn of the page... Chadwick's novel is possibly the most original and unbiased interpretation of her life. " — Mina's Bookshelf

"This is high drama indeed, so we have to thank Elizabeth Chadwick for bringing these turbulent times so excellently to life. This British author has gained many loyal fans down the years... with THE SUMMER QUEEN she has done a magnificent job and rewarded those fans, as well as being sure to delight a new generation of readers who love historical romance." — Fresh Fiction

"Chadwick brings a new interpretation and life to Alienor... One of Chadwick's strengths is that she brings the historical world that we will never experience to life in a way that is relatable to us in the modern day." — The Maiden's Court

"The Summer Queen is a fascinating look at the early life of Eleanor of Aquitaine." — Bloggers Recommend

"Elizabeth Chadwick has done some extensive research into Eleanor's life... For such a strong character as Eleanor, a series seems fitting. " — Stephanie's Book Reviews

"Meticulous research and strong storytelling." — Woman and Home

"Chadwick's prose effortlessly blends narration, description and dialogue. Each chapter advances the story with tension and drama, never with superfluous detail or tangential storylines. Dialogue reflects the time and circumstances of the characters and yet is easy for today's readers to understand... The Summer Queen is truly superb. Bravo, Elizabeth Chadwick." — A Writer of History

"This is a brilliant work of historical fiction... a beautifully written novel... The Summer Queen is quite a dramatic tale, and I loved reading every second of it." — Feminist Reflections

"Chadwick eloquently tells of Alienor's experiences and emotions as she faces each new challenge in a world where most women are mere pawns. Her descriptions of locales, from Aquitaine to Paris to Jerusalem, and the alternately dusty and muddy roads between them are captivating... for readers who enjoy history, historical fiction, or stories of strong women fighting for power and equality." — Fresh Fiction