Operational Updates
Click HERE for the most updated hours, customer guidelines and updates to store policy.
Three Seconds (Hardcover)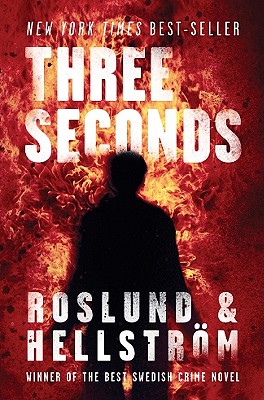 About the Author
---
Award-winning journalist Anders Roslund and ex-criminal Borge Hellstrom are Sweden's most acclaimed fiction duo. Their unique ability to combine inside knowledge of the brutal reality of criminal life with searing social criticism in complex, intelligent plots has put them at the forefront of modern Scandinavian crime writing. In 2009, "Three Seconds" was awarded the Swedish Academy of Crime Writers' Award for Swedish Crime Novel of the Year, previously won by both Stieg Larsson and Henning Mankell, and it was a top 10 best seller in Sweden for eight months.
Praise For…
---
"Gritty and fast-paced." -- TODAY show "Americans are finally catching on to what thriller fans around the world already know — that the Swedish team of Roslund & Hellstrom is writing explosive crime novels as good, if not better, than those of Stieg Larsson …. Gun play, explosions, betrayals and the ingenious ways drugs and weapons are smuggled into prisons give this novel, Roslund & Hellström's fifth, an eau de testosterone level that's through the roof." –USA Today
"[A] sprawling and often gripping thriller…. The gritty details of drug dealing, of prison life and of the relations between cops and informants are all rendered with convincing authority."--Wall Street Journal
"Thrill-a-minute cat and mouse game…a grimly amoral tale." --Marilyn Stasio, New York Times Book Review  "Twisty plot makes for propulsive reading." --Entertainment Weekly "A complex and surprising novel… A riveting story that serious readers will find worthwhile and memorable. Three Seconds hits its target. It is a tour de force." --New York Journal of Books "It's like Traffic on the Swedish-Polish border, but everything from the weather to the criminals' hearts is a little colder." --People magazine "The action quickly draws you in and continues to grip you to the final chapters of the novel. The authors have something to say, and Three Seconds proves to be an excellent way of doing it." --Associated Press "These guys are their own kind of writers and if you love crime fiction you owe it to yourself to check out this book. Mobsters, drug dealers, corruption and loads of action. This is pure straight up Crime Fiction, no chaser, no apologies." ––Crimespree "Piet Hoffman is a devoted husband and the father of two young sons. He's also an ex-con who has been working undercover for the Stockholm police for nine years. Code named "Paula," Piet has risen through the ranks of the Polish mafia and is chosen to lead the Poles' effort to control the supply of amphetamines in Sweden's prisons. To do that, Paula must get himself arrested and sent to a maximum security prison, wipe out the existing supplier, and keep himself alive until he has all the information needed for the police to move on the gang. Roslund, a former journalist, and Hellstrom, a former criminal, have concocted a brilliant thriller that posits a nearly literal invasion of Sweden by East European criminals allied with former state security agents. Combine that with a morally compromised police and Ministry of Justice effort to combat the invasion, and you have a genuine crisis. Piet's growing fear of discovery or betrayal and his angst at his beloved wife's ignorance of his work ratchet up the story's tension page by page and make the novel extremely difficult to put down. Named the Swedish Crime Novel of the Year in 2009, Three Seconds puts Roslund and Hellstrom in the company of Henning Mankell and Stieg Larsson. Crime fiction rarely gets as good as this." -- Booklist [*Starred Review*]