Eggs in a Casket (Cackleberry Club Mysteries) (Large Print / Paperback)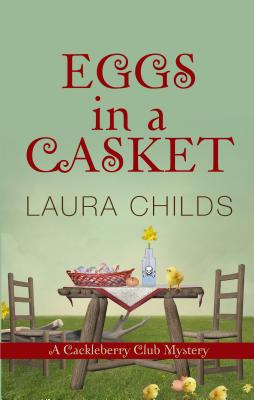 $26.99
Backordered or Out of Print
Description
---
The "New York Times "bestselling Cackleberry Club series returns with three intrepid ladies who know their way around a kitchen--as well as a crime scene...
Petra, Suzanne, and Toni may have lost their husbands, but they've found new life operating the Cackleberry Club cafe. It's where the locals head for an amazing breakfast, the good company of friends, and a puzzling mystery or two...
THIS KILLER IS TOAST
Suzanne and Toni are off to Memorial Cemetery to help prepare for its 150th anniversary celebration. The ladies expect to find the historical society's tent, but instead they discover the body of ex-prison warden Lester Drummond lying facedown in a freshly dug grave. Now, with the town peppered with suspects and the local authorities in over their heads, it's up to the Cackleberry Club to unscramble the clues and sniff out a bad egg.
Recipes Included.
About the Author
---
Laura Childs is the "New York Times "bestselling author of the Cackleberry Club Mysteries, the Tea Shop Mysteries, and the Scrapbooking Mysteries. She is a consummate tea drinker, scrapbooker, and dog lover, and travels frequently to China and Japan with Dr. Bob, her professor husband. In her past life she was a Clio Award-winning advertising writer and CEO of her own marketing firm.