Operational Updates
Click HERE for the most updated hours, customer guidelines and updates to store policy.
You're Still the One (Paperback)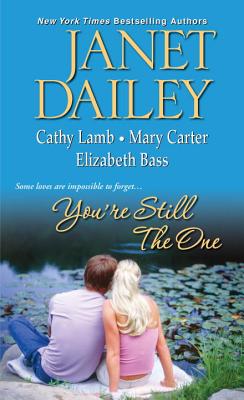 Description
---
A knowing wink. . .a smile that tugs at the heartstrings. . .a mind-blowing kiss. In this unforgettable collection of stories, four women have a second chance to rekindle an old spark. . .

The Apple Orchard by Cathy Lamb

When an injury lands Allie Pelletier in the emergency room, she comes face-to-face with the only man she's ever truly loved--Dr. Jace Rios. But can Jace also mend their wounded past and show Allie they're destined to be together?

A Kiss Before Midnight by Mary Carter

Rebecca Ryan has never forgotten the magical night she spent in New Orleans with musician Grant Dodge. Now twenty years later, Rebecca is reunited with Grant. Their attraction is as electric as ever--and they have more to catch up on than either imagined. . .

Romeo & Juliet. . .And Jane by Elizabeth Bass

When veterinarian Jane Canfield's first love, Roy McGillum, returns to town, memories of their high school performance as Romeo and Juliet--and their real-life romance--come rushing back. And when Roy shows up at Jane's window, she'll have to decide if it's time for an encore. . .

The Devil And Mr. Chocolate by Janet Dailey

Art gallery owner Kitty Hamilton is newly engaged to a delicious Belgian chocolatier. But her artist ex-husband, Sebastian, is determined to sabotage her plans with an even more tempting indulgence--the irresistible chemistry they still share.
About the Author
---
Janet Dailey's first book was published in 1976. Since then she has written more than 100 novels and become one of the top-selling female authors in the world, with 325 million copies of her books sold in nineteen languages in ninety-eight countries. She is known for her strong, decisive characters, her extraordinary ability to recreate a time and a place, and her unerring courage to confront important, controversial issues in her stories. To learn more about Janet Dailey and her novels, please visit www.JanetDailey.com or find her on Facebook at Facebook.com/JanetDaileyAuthor.

Cathy Lamb was born in Southern California and grew up in Oregon. The author of many popular novels, including Julia's Chocolates and Henry's Sisters, she writes full time and lives with her family in Beaverton, Oregon. Readers can visit her website at cathylamb.org.

Elizabeth Bass lives with her husband in Montreal, where she writes and astounds the locals with her makeshift French. An elderly cat or dog can typically be found in her apartment, and during the busiest day, Elizabeth usually finds time to sneak in an old movie. She is the author of many smartly written works of romance and women's fiction, including Summer Days, Life is Sweet, and Wherever Grace is Needed. She loves to hear from readers and can be found on Facebook, Twitter (@ElizabethBass), or at elizabeth-bass.com.

Mary Carter is a freelance writer and novelist. Her books include London From My Windows, Meet Me in Barcelona, Three Months in Florence, The Things I Do for You, The Pub Across the Pond, My Sister's Voice, Sunnyside Blues, She'll Take It, and Accidentally Engaged. Readers are welcome to visit her at marycarterbooks.com, find her on Facebook, or follow her on Twitter @marycarterbooks.