Their Perfect Melody (Matched to Perfection #3) (Mass Market)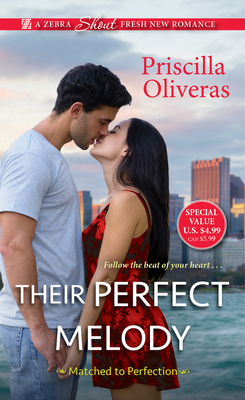 Other Books in Series
This is book number 3 in the Matched to Perfection series.
Description
---
A ZEBRA SHOUT FRESH NEW ROMANCE  

With talent, heart, and ambition to spare, the Fernandez sisters have each followed their own unique path, even when it leads to surprising destinations—in life and love . . .
 
Growing up, Lilí María Fernandez was affectionately known as the family "wild child." The life of the party, she loved to dance, especially salsa, merengue, and bachata, and often sang beside her father during rehearsals for his trío group. But tragedy and loss have drawn out Lilí's caretaking side, compelling her to become a victim's advocate. These days, the special rhythms of the past seem like a distant memory. Until she meets Diego Reyes . . .
 
A police officer with the Chicago PD, Diego also has a talent for playing classical Spanish guitar. And Lilí soon finds herself inspired by his passion—for the music, for her, and for their shared love of familia and community. Can Diego reignite Lilí's fun-loving spirit, persuade her to balance work and pleasure—and embrace her wild side once more?
 
Praise for Priscilla Oliveras' His Perfect Partner
 
"Moving familial relationships and splashes of Puerto Rican culture round out this splendid contemporary."
—Publishers Weekly, STARRED REVIEW
 
"Oliveras takes all the right steps in this sweet romance . . . Packed with emotion, humor, and memorable characters."
—Booklist, STARRED REVIEW
 
"Well written and full of fun, welcoming characters. Readers will laugh and cry and be uplifted."
—RT Book Reviews, 4 Stars
About the Author
---
PRISCILLA OLIVERAS is a 2018 RWA® RITA® double finalist who writes sweet contemporary romance with a Latinx flavor. Proud of her Puerto Rican-Mexican heritage, she strives to bring authenticity to her novels by sharing her Latinx culture with readers. Her debut release, His Perfect Partner, and the second book in her Matched to Perfection series, Her Perfect Affair, both earned Starred Reviews from Publishers Weekly and Booklist. Since earning an MFA in Writing Popular Fiction from Seton Hill University, she serves as English adjunct faculty at her local college and teaches an on-line course titled "Romance Writing" for ed2go. Priscilla is a sports fan, a beach lover, a half-marathon runner and a consummate traveler who often practices the art of napping in her backyard hammock. To follow along on her fun-filled and hectic life, visit her on the web at www.prisoliveras.com, on Facebook at www.facebook.com/prisoliveras  or on Twitter via @prisoliveras.
Praise For…
---
Praise for Priscilla Oliveras's Matched to Perfection series:

"Readers will feel utterly carried away. . . . Whether you're well-versed in Puerto Rican culture or completely new to it, Oliveras welcomes readers into a space that feels both familiar and new and exciting. . . . A romantic, diverting melody." —Entertainment Weekly on Their Perfect Melody

"Oliveras' tangled, topical conflicts between multidimensional characters blend with lovingly portrayed family life and an intricate, realistic plot, enmeshing the reader in her created world." —Publishers Weekly, STARRED REVIEW, on Their Perfect Melody

"Sexy, sassy, and overflowing with music, complex emotions, and family-loving Latinx American and Puerto Rican characters, this romance is a compelling, often joyful read and perfectly wraps up the 'Perfection' trilogy." —Library Journal on Their Perfect Melody

"Rising author Oliveras continues her excellent contemporary Matched to Perfection series featuring three Latina sisters, following the acclaimed. . . Oliveras infuses warmth, intelligence, and emotion into this refreshing read." —Booklist, STARRED REVIEW, on Her Perfect Affair

"Oliveras tops her excellent debut, His Perfect Partner, with this revelatory, realistic second romance . . . Oliveras's integration of cultural and class differences, familial expectations, and career objectives into the couple's romantic decision making immeasurably enriches a moving plot about good people making difficult choices." —Publishers Weekly, STARRED REVIEW, on Her Perfect Affair

"Oliveras makes a perfect debut with a sweet, sassy, traditional romance. Readers will laugh and cry and be uplifted…Oliveras is an author to watch." 
—RT Book Reviews, 4 Stars, on His Perfect Partner

"Oliveras takes all the right steps in this sweet romance. Oliveras' refreshing tale is the start of a very special trilogy . . . Packed with emotion, humor, and memorable characters. Fans of Samantha Chase will enjoy this heart-tugging love story." —Booklist, STARRED REVIEW, on His Perfect Partner