The One Man: The Riveting and Intense Bestselling WWII Thriller (CD-Audio)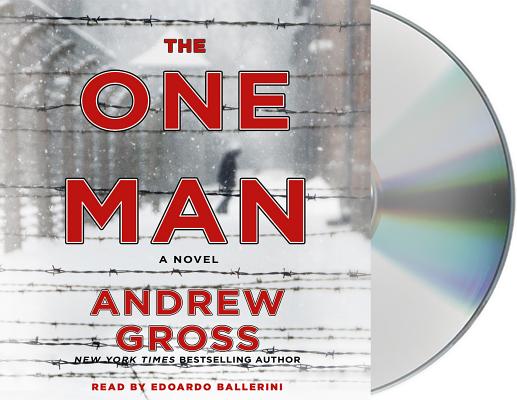 $39.99
Usually Ships in 1-5 Days
Description
---
"Actor Ballerini turns the scene into a fascinating radio drama...These conversational moments, delicately crafted by Gross and splendidly performed by Ballerini, have a profound effect on the novel's equally well-enacted, action-filled, breathless escape sequence." — Publishers Weekly
1944. Physics professor Alfred Mendel and his family were trying to flee Paris when they were caught and forced onto a train, along with thousands of other Jewish families. At the other end of the long, torturous train ride, Alfred is separated from his family and sent to the men's camp, where all of his belongings are tossed on a roaring fire. His books, his papers, his life's work. The Nazis have no idea what they have just destroyed. And without that physical record, Alfred is one of only two people in the world with his particular knowledge. Knowledge that could start a war, or end it.
Nathan Blum works behind a desk at an intelligence office in Washington, DC, but he longs to contribute to the war effort in a more meaningful way, and he has a particular skill set the U.S. suddenly needs. Nathan is fluent in German and Polish, and he proved his scrappiness at a young age when he escaped from the Krakow ghetto. Now, the government wants him to take on the most dangerous assignment of his life: Nathan must sneak into Auschwitz, on a mission to find and escape with one man.
This historical thriller from New York Times bestseller Andrew Gross is a deeply affecting, unputdownable series of twists and turns through a landscape at times horrifyingly familiar but still completely compelling.
About the Author
---
ANDREW GROSS is the New York Times and internationally bestselling author of several novels, including No Way Back, Everything to Lose, and One Mile Under. He is also coauthor of five #1 New York Times bestsellers with James Patterson, including Judge & Jury and Lifeguard. His books have been translated into over 25 languages. He lives in Westchester County, New York, with his wife, Lynn. They have three children.

Edoardo Ballerini is an American writer, director, film producer and actor.  He has won many awards for his audiobook narration; within only a few years after beginning his narrating career, he won several AudioFile Earphones Awards for his work, including Stephen Greenblatt's The Swerve: How The World Became Modern, Jodi Picoult's The Storyteller and Jess Walter's Beautiful Ruins.   He narrated Kenzaburo Oe's Nobel Prize Winning Nip the Buds, Shoot the Kids, Joseph Finder's The Moscow Club as well as works by John Edward and Daniel Stashower.   In television and film, he is best known for his role in The Sopranos, 24, I Shot Andy Warhol, Dinner Rush and Romeo Must Die. The silky-voiced Ballerini is trained in theater and continues to do much work on stage.
Praise For…
---
"The One Man contains many different plots and characters that cross the globe, and narrator Ballerini effortlessly manages the complex story line. All accents are portrayed authentically, with the nuances of each language clearly expressed—American accents are especially crisp and easily stand out from the third-party narration. Given the numerous accents and foreign, scientific, and military terms used, the audio truly enhances the written text. This historical thriller will keep listeners engaged, and although they know how the war ends, they will find themselves on the edge of their seats wondering what happens next." -Booklist
"[Edoardo Ballerini's] versatile transition between multiple characters will keep you riveted." NJ.com
"...a harrowing performance that's riveting and easy to follow." eMissourian.com